The wildly popular Ashley Bashioum (Mackenzie Browning) has announced that she will leave The Young and the Restless.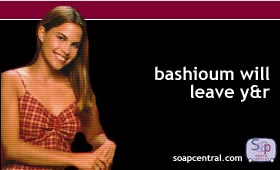 "Ashley is leaving at the conclusion of her contract," a Y&R spokesperson revealed to Soap Central.
Bashioum joined the show in February 1999.
In addition to being well liked by the fans, Bashioum has been rewarded heavily for her on-screen work. The young actress won four Soap Central awards last year, including the Outstanding Overall Performer award. Bashioum also picked up several nominations in this year's awards.
According to sources, Bashioum and the show were not able to work out a new contract. Bashioum is said to now be focusing on work outside of daytime television, including feature films and primetime series.
Bashioum will make her final on-air appearance on February 15. The role will be recast, but to date the show has made no announcement about Bashioum's successor. However, Nicole Tarantini, who fans will recall stepped in temporarily last year while Bashioum battle mononucleosis, is not being considered for the part.