Fans hoping that The Young and the Restless would once again play the ghost card are going to have their hopes dashed.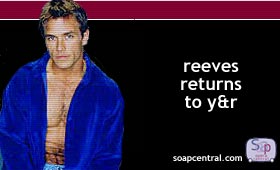 Scott Reeves (ex-Ryan McNeil) as seen entering the Y&R studios in early December, but his return was not a signal that the actor was returning to work on the show. According to a spokesperson for the show, Reeves had returned to his old stomping grounds to check up on his former costars.
Reeves joined The Young and the Restless in May 1991. His ten-year run ended in November when his character was shot and killed.
During his ten-year run in the fictional town of Genoa City, Reeves was awarded a 1993 Soap Opera Award as Outstanding Younger Actor. In 1997 and 1998, Reeves earned Daytime Emmy nominations in the Best Supporting Actor category. Most recently, in 1999, Reeves was nominated for a Soap Opera Award in the Best Supporting Actor field.