February will be a busy time at the Genoa City airport. In addition to the previously announced departures [See the RELATED INFO section at the conclusion of this article] of Ashley Bashioum (Mackenzie Browning) and Shemar Moore (Malcolm Winters), the show will also be losing another key player: Alexis Thorpe (Rianna Miner).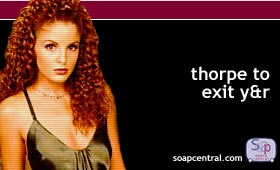 Thorpe has announced that she intends to leave the show to pursue other projects. Late last year, Thorpe was bumped to recurring status. She joined the show in October 2000.
The role of Rianna will not be recast. According to Thorpe, "Rianna will leave for Spain as part of an exchange student program."
Thorpe makes her final on-air appearance on February 14, the same day that Moore makes his exit. According to a show spokesperson, there are no immediate plans to recast the role. However, the show has not ruled out a possible return down the road if necessary.