The search for Ralph Hunnicutt, Mackenzie's stepdad and Amanda's wayward husband, is over.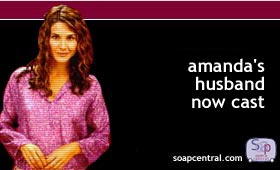 Daniel Quinn will make his daytime television debut as Ralph in the new few weeks. In landing the part, Quinn beat out several daytime veterans, including Robert Kelker-Kelly (Stavros Cassadine, General Hospital), Roscoe Born (ex-Jim Thomasen, All My Children) and Kurt McKinney (ex-Matt Reardon, Guiding Light).
Though a spot on daytime television is new for Quinn, the actor does have many primetime appearances under his belt. Quinn has appeared in FOX's X-Files, the ABC cop drama NYPD Blue, and Baywatch. He will also appear in the upcoming feature film Don't Cry For Me.
Quinn's first airdate has not yet been announced.