Though the role is not yet vacant, The Young and the Restless has already found a replacement for Diego Serrano (Diego Guittierez).
As previously reported by Soap Central, soap opera vet Serrano will leave Y&R when his contract expires this spring. The 28-year-old Ecuadorian-born Serrano has already landed some post-Y&R work. He's slated to start filming the movie Olivier this summer. The movie will also star Juliette Binoche.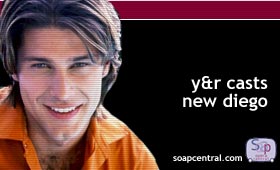 Soap Central has learned that Greg Vaughan has landed the role of Diego from Serrano. Vaughan confirms the report on his official web site.
Vaughan is a former model, having appeared in the Versace ad campaign for "Versus." His previous television roles include spots on Beverly Hills 90210, Buffy: The Vampire Slayer and Charmed.
A Y&R spokesperson declined to comment on the recast. The first airdate for Vaughan is April 30th.