It sounds a bit like a new take on the Hokey Pokey, but at The Young and the Restless there will soon be one Tom in and one Tom out.
As previously reported, David Tom (Billy Abbott) opted not to re-sign a full-term contract with the show. However, the actor did agree to a 13-week extension that will keep him at work through mid-July --- and allow the writers to wrap up his character's story.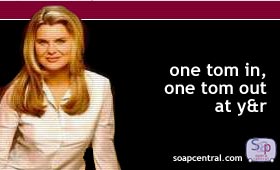 A source says that Billy will be sent off to an out-of-town college after graduation.
Tom joined the show in June 1999.
The role of Billy will not be recast.
Tom's sister, Heather Tom (Victoria Newman), will, however, be remaining on Y&R. The actress recently signed a new four-year contract with the show.
"I am very happy we could come to terms," announced Tom.