Joshua Morrow (Nicholas Newman) has reached a deal on a new contract with The Young and the Restless.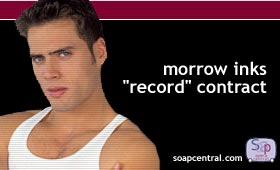 The new deal will extend Morrow's stay in Genoa City by a record-setting five years. Traditional soap contracts usually run two to four years. By all accounts, Morrow is the first performer to ink a five-year deal.
However, a five year deal doesn't necessarily green light Morrow through to 2007. Soap opera contracts are very funny things - even from a media standpoint. A few years ago, a typical soap opera contract lasted two or three years. Recently, networks, hoping to tie popular stars to programs for a longer period of time, began offering four-year deals. But no matter what the term length of a contract, a performer can still be let go before the contract expires.
Morrow joined the cast of Y&R in June 1994.