Style Network announced last week that it would launch a new home design series to be hosted by The Young and the Restless' Lise Simms (Connie Wayne).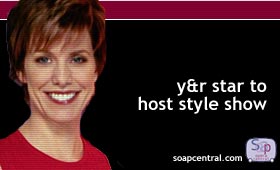 The series, Area, is a practical, exciting and up-to-the-minute home design series tailored for the busy young professional, offering up the latest trends, expert advice and easy and affordable solutions to make our living spaces more beautiful. Area will features segments are built around common decorating concerns, including solving storage, lighting and other common problems, shopping for both affordable and luxury home furnishings, connecting with top designers, and providing updates on the latest trends.
"We're very excited about the launch of Area, a series that will empower viewers with innovative and comprehensible ideas to make their living spaces more beautiful and inviting," said Stephen Croncota, senior vice president, programming, Style.
Area makes its debut on Monday, May 13 at 9:30 PM ET/PT. However, the show will air thereafter in its regular timeslot on Mondays at 9:30PM ET/PT.