A gunman stormed into the sprawling CBS Television Studios complex in Los Angeles on Tuesday and kept police at bay for four hours before shooting himself.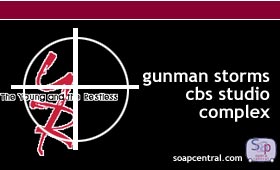 The lone gunman, identified as 31-year-old Raymond Derouen, Jr., rammed a pickup truck through the security gates at the complex and allegedly tried to shoot a mailroom supervisor.
During the standoff, police arranged for Derouen's sister to talk to him, but Derouen was unresponsive. Attempts by hostage negotiators to mediate the situation also failed.
Derouen was said to have held a gun to his head and threatened suicide. A single gunshot was fired and Derouen suffered an apparently self-inflicted wound to the abdomen. No other injuries were reported in the incident.
The incident held up taping of The Young and the Restless and The Price Is Right. Reports that Derouen actually made his way into the studio where The Young and the Restless is filmed remain uncorroborated by authorities.