According to reports, Eileen Davidson (Ashley Abbott) and former Y&R star Vincent Van Patten (ex-Christian Page) are engaged.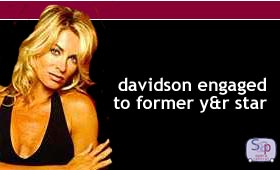 Reports that Davidson and Van Patten were an item first surfaced in February of last year. A tabloid magazine published photographs of the couple in Las Vegas together. The photograph was accompanied by statements from anonymous sources hinting that the couple had become close.
Davidson and husband Jon Lindstrom (Kevin Collins, Port Charles) separated in November 2000 after six years of marriage. They were wed in Cambria, California on May 3, 1997. They first met at a charity event in 1994.