The Young and the Restless is looking to further bolster its cast of African American performers.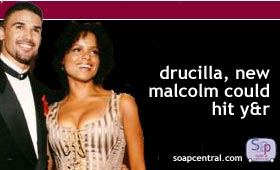 CBS now confirms that Victoria Rowell (Drucilla Winters) will return to the show later this summer. Viewers last saw Drucilla in the Fall of 2000. Contract talks between Rowell and the show fell apart and, after no deal was reached, Rowell exited the show.
While initially declining to comment on internet rumors that had been fluttering about for several weeks, a spokesperson for The Young and the Restless reveals that Rowell will make her return to the small screen on August 15th.
There is also talk that Y&R might be attempting to recast the role of Malcolm Winters. Malcolm was written out of the show earlier this year when Emmy winner Shemar Moore opted to exit the show to pursue a career in feature films.
The show currently has out a casting call for an African American male named "Wesley," who is said to have a "great body."
Both casting rumors come on the heels of the show signing former child star Todd Bridges to play bad boy "Juice." Juice is one of Drucilla's old flames and there is speculation that Drucilla's return could fuel the storyline. While Bridges, who played Willis Drummond on Diff'rent Strokes, is slated to only appear in six episodes, there is the possibility that the role could be extended.