Genoa City newcomer Gretchen Palmer (Serena) will be exiting The Young and the Restless this fall. The actress has been released from her contract with the show.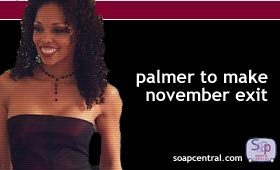 The decision to ditch Palmer's character doesn't come as much of a surprise to some fans -- or to Palmer for that matter. Palmer states that the return of Victoria Rowell (Drucilla Winters) to the show pretty much sealed her character's fate.
Palmer was originally brought on to bolster the presence of African American women on the show.
After her stint on Y&R is finished, Palmer says that she hopes to make a transition to primetime television. The actress will also have something else to keep her busy -- she teaches dance to children in Pasadena.
Palmer made her debut on The Young and the Restless in May. Her final airdate will be November 15.