Y&R Vets Returning For "Shocker"
by
Dan J Kroll

Posted Saturday, February 01, 2003 6:35:34 PM

Julianna McCarthy (Elizabeth Foster) reprises her role as Elizabeth on February 3rd as part of an explosive storyline scheduled for The Young and the Restless' February Sweeps.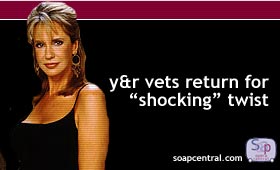 According to a show insider, Elizabeth will reveal a secret that was previously unknown to viewers. The secret will have shocking repercussions for Jill -- and Katherine. The plot twist will take viewers back to the very beginning of Y&R's run.

At about the same time, original cast members of The Young and the Restless William Grey Espy (Snapper Foster) and James Houghton (Greg Foster) will return to the show. Espy was last seen on Y&R in 1975, while Houghton appeared on Y&R from 1973 to 1976.