Keith Hamilton Cobb will be returning to daytime television, but it won't be to reprise his Emmy-nominated role on All My Children. Instead, the actor begins taping this week at rival soap The Young and the Restless.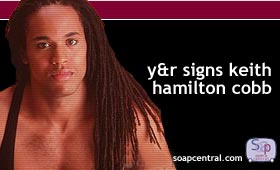 Cobb is best known to daytime viewers as the tough, yet tender dreadlocked Noah Keefer on ABC's All My Children. Cobb appeared on the ABC soap from 1994 through 1996. In 1995, he was honored with a Daytime Emmy nomination for Outstanding Younger Actor. More recently, Cobb appeared in the sci-fi series Andromeda.

It was Cobb's work on Andromeda that kept him from reprising his role on All My Children. Last year, AMC had hoped to have Cobb briefly return to the show, but his conflicting work schedule on Andromeda, which taped in Canada, prevented him from returning. There were also rumblings that Cobb didn't want to return to daytime television.

On The Young and the Restless, Cobb will originate the role of Damon Porter.

"Damon Porter is a brilliant, charismatic chemist who will have a significant impact on the Jabot-Satine conflict," said Y&R Executive Producer David Shaughnessy. "This former Atlanta rancher has an almost magical quality about him that people will find irresistible. He will immediately become part of the Newman/Abbott conflict."

"The writers have an exciting story planned and Keith's appeal and talent make him an ideal choice for this character" said Barbara Bloom, Senior Vice President, Daytime Programs, CBS Television.

Cobb makes his first Y&R appearance on May 23rd.