Eileen Davidson (Ashley Abbott) will return this month to The Young and the Restless following a several month-long maternity leave.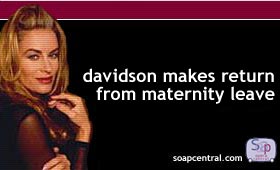 Davidson and husband, her former Y&R co-star Vincent Van Patten (ex-Christian), welcomed a son on May 20th. The baby, named Jesse Thomas, weighed in at 8 pounds 4 ounces. The Emmy nominated Davidson's due date was May 17th, the day following this year's Daytime Emmys telecast. Because of this, the actress was forced to stay in Los Angeles instead of attending the Manhattan-based awards show.
This was the first child for Davidson and Van Patten, who were wed on April 15, 2003. Davidson and her soap star husband Jon Robert Lindstrom (Kevin Collins, Port Charles) separated in December 2000 and were divorced shortly thereafter. Davidson and Van Patten were recently married.
Davidson will return to the Y&R canvas on August 20th.