What is your reaction to David Lago's decision to leave Y&R?

I'm sad he'll be leaving, but I definitely wish him well.
43%
I think it's a good move. Raul doesn't really interest me.
23%
This is horrible. CBS needs to find a way to make him stay.
21%
Not to sound rude, but I think that Lago will be back.
5%
If Lago wants out, I think that CBS should recast Raul.
4%
I don't really have an opinion about Lago's exit.
3%
Other
1%
Poll Posted: June 25, 2004
Multiple Daytime Emmy nominee,
David Lago
(
Raul Guittierez
), has announced that he will exit The Young and the Restless later this summer.
"David Lago is choosing to leave Y&R at the conclusion of his storyline," a spokesperson for Lago said in a statement.
According to a show source, Lago's exit is storyline-dictated and the role will not be recast.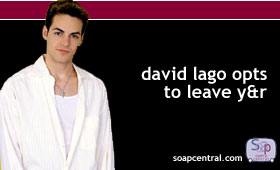 Lago joined the cast of The Young and the Restless in 1999. During his run in Genoa City, the actor has earned Daytime Emmy nominations in 2000, 2001, 2003 and 2004 in the Outstanding Younger Actor category.
"David is thankful for his years on the show and the cooperation that has been given to him to pursue other projects," Lago's spokesperson added. "How, he wants to explore other opportunities, but does not rule out the possibility of a future return."
In addition to his work on The Young and the Restless, Lago has two feature films to his credit as well as a long-running guest appearance on the primetime series "7th Heaven." Lago's spokesperson declined to comment on Lago's immediate post-Y&R plans.
Lago will tape his final scenes in July and will air into August.