Does Alden's long tenure as a Y&R writer help or hurt the show?

It helps. Alden knows the show's history and uses it.
45%
Both. It's nice to have history, but hard to keep it fresh.
23%
It hurts. I think Alden's ideas have started to get stale.
19%
I have no opinion about Alden's tenure with Y&R.
8%
I can't say. I haven't been watching Y&R all that long.
3%
Other
2%
Poll Posted: August 16, 2004
There are some changes to the writing team of The Young and the Restless. The changes, however, don't involve anyone's departure - or anyone's dismissal.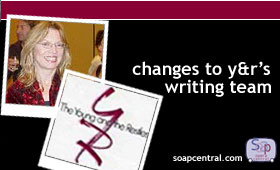 Kay Alden has signed a new contract that will have her remain on as the show's head writer. Alden has an extensive history with the top-rated soap. She joined the show as a writer in 1974 and remained on the show's writing team until her promotion to head writer in 1998.
However, Alden will now be sharing her duties with Jack Smith. Smith, who had served as the show's co-head writer, has been promoted to head writer alongside Alden. In addition to his duties as a scribe for the show, Smith also serves as executive producer of The Young and the Restless.