Would you like to see Lyndsy Fonseca return as Y&R's Colleen?

Yes. I still don't understand why Y&R let her go.
88%
No. I don't think the character is needed on the show.
6%
I liked Fonseca's work, but Colleen isn't needed right now.
4%
I have no opinion about a possible return by Fonseca.
1%
Colleen should be written back in, but as a new actress.
1%
Other
0%
Poll Posted: November 1st, 2004
As hinted at by Soap Central last week, The Young and the Restless has confirmed that it has re-signed actress
Lyndsy Fonseca
(
Colleen Carlton
) to the show.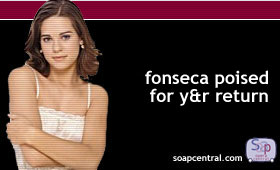 In a move that left many fans scratching their heads, Fonseca, who joined the cast of The Young and the Restless in 2001, was
released from the show this past May
. The role of Colleen was originally slated to be a short-term role. The actress, however, impressed show execs and the role was expanded. Fans, too, also enjoyed the actress' work. In 2002, Fonseca was nominated for Outstanding Newcomer in Soap Opera Central's Dankies Awards.
"Although I regret not being able to continue exploring Colleen, I have to be very grateful to the folks at Y&R for giving me my first job," Fonseca said in a statement.
Since leaving Y&R, Fonseca, a California native, has kept a low profile. During her run on The Young and the Restless, the young actress made guest appearances on Boston Public, Malcolm in the Middle and NYPD Blue.
"I'm really excited to see all my friends at Y&R again," a happy Fonseca revealed. "I always enjoyed working with Thad [Luckinbill, who plays JT]."
Fonseca's first airdate is December 24th.