William J. Bell, the legendary and Emmy Award-winning daytime drama creator, died April 29, 2005 at the age of 78 of complications from Alzheimer's Disease.
Bell began his career in television in 1956 writing for The Guiding Light before co-creating Our Private World and Another World. He was also a writer on As the World Turns from 1957-1966 and later became the head writer of Days of Our Lives in 1966. In 1973, while Bell was still the head writer on Days of Our Lives, he and his wife, Lee Phillip Bell, created The Young and the Restless. The series has been the Number One daytime program week after week for more than 16 years and has received numerous Emmy Awards, including six for Outstanding Drama Series, most recently in 2004. In 1987, the Bells co-created the hit CBS daytime drama, The Bold and the Beautiful.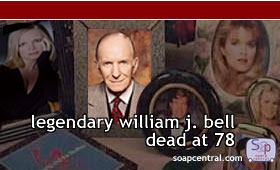 "Bill Bell is one of the true pioneers of daytime television, and his genius helped make CBS number one in this daypart for over 16 years," said Leslie Moonves, Co-President and Co-Chief Operating Officer, Viacom and Chairman, CBS. "He is without peer in his ability to create the most compelling, endearing stories and characters, and keep them fascinating for years on end. That is his legacy, and the millions of viewers who have followed his shows are a testament to that rare gift. We are incredibly saddened by his passing, for the daytime community has lost a true legend and the CBS family has lost a friend. Our heartfelt sympathy goes out to his wife, Lee Phillip Bell, his children, Bill, Jr., Bradley and Lauralee, and the entire Bell family."
"Bill Bell's talent, imagination and heart created a vast array of characters who have captivated audiences for generations," said Barbara Bloom, Senior Vice President of Daytime Programs, CBS. "He was an unequaled visionary whose passion and devotion to the daypart helped to elevate dramatic serial storytelling to an art form. The legacy he leaves continues to unfold across televisions world wide. We join 'The Young and Restless' and 'The Bold and the Beautiful' families in mourning their founder, and we extend our deepest sympathies to his beloved wife Lee, and their children, Bill Jr., Bradley and Lauralee, who have been kind enough to share him with us."
Bell's son, Bradley, is the executive producer and head writer of The Bold and the Beautiful. His daughter, Lauralee Bell portrays Christine Williams on The Young and the Restless.
Funeral services will be arranged at the Good Shepherd Catholic Church in Beverly Hills, Calif. In lieu of flowers, the family requests that donations be made to the Alzheimer's Association.