It's official -- Kimberlin Brown (Sheila Carter) will be reprising her Emmy-nominated role on The Young and the Restless. The actress heads back to Genoa City later this summer.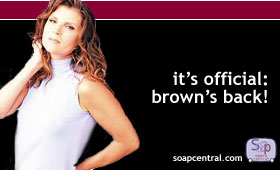 As previously reported by Soap Central, Brown opted to leave her role on ABC's One Life to Live when the network was unable to match the financial terms of a contract offered to her by CBS. Brown had been appearing on a recurring basis as Paige Miller on One Life to Live since October 2004. It was widely known that Brown would be rejoining the cast of The Young and the Restless, but the official announcement was not made until recently. [For more on One Life to Live's decision to recast of the role of Paige, click here.]

Just how Brown's character is written back into the show's storylines will be a bit of a challenge. When last spotted on Y&R's sister-soap The Bold and the Beautiful, where Brown appeared regularly from 1992 through 1998 and then sporadically from May 2002 through October 2003, Sheila was on the lam after killing Taylor Forrester. Taylor has since turned up very much alive, but Sheila still has a heap of legal issues dogging her.

In conjunction with Brown's return, The Young and the Restless is also bringing back Sheila's almost-son, Scotty Grainger. [Click here for more on Scott's return]

In addition to her work as Sheila on The Young and the Restless and The Bold the Beautiful and Paige on One Life to Live, Brown has also appeared on General Hospital, Port Charles and Another World.

Brown makes her return to The Young and the Restless on August 5th.