In a move that is sure to surprise fans of the show, Emmy-nominated Christel Khalil (Lily Winters) has announced that she will exit The Young and the Restless when her contract expires later this year.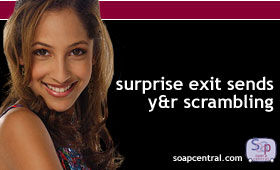 Khalil, who joined the cast of The Young and the Restless in July 2002, has expressed a desire to pursue projects outside of daytime television -- which includes her dream of becoming a movie star.
"I don't have a mortgage to pay," Khalil noted when explaining her reasons for quitting. "So it's the right time to be unemployed and really go after my dream, which is to be a movie star."
There had been some confusion involving Khalil's exit. Apparently the young starlet's agent inadvertently relayed Khalil's intent to re-sign with the show. Elated Y&R execs crafted a major storyline for Khalil's character and must now scramble to recast the role. To make up for the mistake, Khalil has agreed to stay on with the show past the end of her current contract, which expired on July 15th.
Khalil will take her last episode for the show on August 4. She is expected to last air on September 2. There is currently no word on which young actresses may be in the running for the role of Lily.