What is your reaction to the news that Lauren Woodland is leaving Y&R?


It's good news to me. I was never really a fan of Brittany.
36%
I'm upset. Woodland is a fave of mine and Brittany is a valuable character.
35%
With Enos having exited, I was expecting this exit for some time.
14%
I'm a fan of Woodland, but I do think that it was time for Brittany to go.
8%
It doesn't really matter to me that Woodland will be exiting.
6%
Other
1%
Poll Posted: October 16, 2005
As previously reported by Soap Central, actress
Lauren Woodland
(
Brittany Hodges
) will make a not-totally-unexpected exit from The Young and the Restless next month.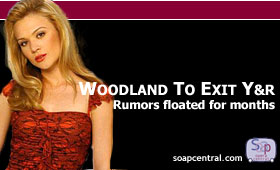 Woodland's exit is the result of two somewhat related factors: budgetary considerations and storyline. According to Y&R's head writer and executive producer, Jack Smith, the show was forced to make some cuts because of the large cast it is currently carrying. As new characters are brought into the canvas, the show is forced to reevaluate those characters already on its canvas.
Rumors of Woodland's exit have been fixtures on message boards ever since her on-screen husband,
John Enos
(
Bobby Marsino
) was let go
earlier this year
. As is the case with Woodland's exit, the reason for Enos' departure was also said to be financial.
Woodland made her debut on The Young and the Restless in March 2000. She will last air on November 2nd.