Tammin Sursok (Colleen Carlton) flies back to Los Angeles on Tuesday to resume her tape schedule on The Young and the Restless. The actress spent the past two weeks at home in Australia introducing her American boyfriend to her parents and friends. While not ready to name him in the press, Sursok did confide to Australian media that she met her beau about a year ago on the set of one of her recently-wrapped films.
"He works in the film industry, but isn't an actor" Sursok told Australian newspaper The Daily Telegraph. "It's better to date people who understand the industry but they don't have to be directly in front of the cameras."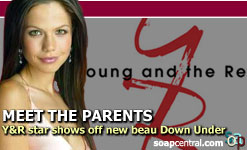 Sursok has two films in the can for 2008. She carries the lead role in Albino Farm, a slasher movie about a confrontation between students camping in the Ozarks and a group of hillbillies living in a cave. The film also stars Kevin Spirtas (ex-Craig Wesley, Days of our Lives). She also has a small role in the Harrison Ford and Sean Penn vehicle, Crossing Over.
There is another potential film role coming up in 2008, but contracts have not been signed and Sursok declined to give additional details at this time.
During their time in Oz, Sursok and her mystery boyfriend spent their spare time exploring several beaches and reconnecting with her old friends from Home and Away, an Australian soap on which she starred as Dani Sutherland from 2000 to 2004.
Sursok assumed the role of Colleen from actress Adrienne Leon in July 2007.