On April 10th, Kate Linder (Esther Valentine) was honored with a star on Hollywood's Walk of Fame. The Pasadena, California, native was hired more than 25 years ago to play a walk-on role so inconsequential that the character didn't even have a name.
"Dinner is served," beamed Linder, fondly recalling her one-line debut. Though she had just a single line of dialogue, show executives were impressed and Linder was asked to come back the next day. Weeks passed, the writers kept writing lines for her, and history was made. During a taping, Jeanne Cooper (Kay Chancellor) called Linder's character "Esther" - all while the cameras were rolling. Eventually, Esther's last name became "Valentine" in honor of Linder's own wedding anniversary.
Unsure how long this acting assignment would last, Linder held onto her other job as a flight attendant with United Airlines. She kept it a big secret. "In the beginning, I didn't know what was gonna happen so I didn't tell anyone at the show that I was a flight attendant, because I thought they might not take me seriously as an actress."
The jig was up on a flight from Colorado when Linder unexpectedly came face to face with her Y&R co-star Jeanne Cooper. Linder had to come clean. "I told her the truth and she thought it was really great," she laughs.
Linder still works both jobs, and jokes that these dual careers have kept her grounded. "If one day I'm on the set, and one day I'm talking to reporters, and one day I'm pouring coffee at 30,000 feet, then I can't forget who I am," she explains.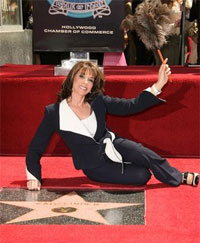 Linder was between flights in Portland, Oregon, when she checked her phone messages and got the news about her star. "I stopped breathing and started crying," Linder said. "The captain of the plane then went on to announce after takeoff that I was getting my star and the flight passengers applauded."
Friends from Y&R turned out in droves to support Linder at her star ceremony. Lee Phillip Bell, co-creator of The Young and the Restless, and Cooper gave moving tributes. Also attending were Lauralee Bell (ex-Christine Blair), Tracey Bregman (Lauren Fenmore Baldwin), and Peter Bergman (Jack Abbott). Bell Productions head writers Maria Arena Bell (Y&R) and Bradley Bell (The Bold and the Beautiful) were also in the happy crowd.
Linder's star is across the street from the Hollywood Roosevelt Hotel, right next to co-star Eric Braeden's (Victor Newman) star. Other soap stars on the Walk of Fame include Jeanne Cooper, All My Children's Susan Lucci (Erica Kane), and Macdonald Carey (Tom Horton, Days of our Lives).