Recently Emmy-nominated Tammin Sursok (Colleen Carlton) is exiting The Young and the Restless. Her departure comes on the heels of whispers that the show is looking to bring back her ousted predecessor, Adrianne Leon.
Sursok joined the Y&R cast in July 2007 amid a whirlwind of controversy surrounding Leon's exit from the top-rated series. In a statement on her official website, Leon expressed how hurt she was over her sudden dismissal from the show and a request by network executives that she not attend that year's Daytime Emmys.
"I was notified today that I will no longer be part of the cast of Y&R and that [last Friday] was actually my last day there," Leon said on her personal blog site at the time. "I wish I would have known that then... and had taken the opportunity to let everyone know just how much I enjoyed working with them in addition to how greatly they will be missed."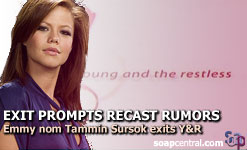 Internet message boards were later inundated with claims that Leon was dismissed because of her physical appearance. The unsubstantiated, though omnipresent claims, stated that Leon had gained a few pounds and, despite requests from show brass, had been unable to drop the weight.
If the show does plan to recast Colleen, it doesn't appear to be soon. Sursok returned to taping Y&R episodes during the week of June 2.
According to a show spokesperson, Sursok is scheduled to return to The Young and the Restless later this year. Colleen will be written off the show for approximately six weeks while Sursok films a movie. The film,
Spectacular!
, a High School Musical type film for the Nickleodeon network.
Meanwhile, in addition to the rumors of a possible return by Leon to the show, there are whispers that Sursok's on-screen love, Eyal Podell (Adrian Korbel) will soon be exiting the show - permanently. A show spokesperson reminds soapcentral.com that it is not network policy to discuss rumors.
Sursok exited The Young and the Restless on May 12th. Her return date has not yet been determined.