Paul Rauch has been elevated from his role as story consultant to the role of co-executive producer of The Young and the Restless. The change comes as embattled former executive producer Josh Griffith has been released from the show. Rauch's new job title is just one of three changes announced by the longest-running number one program in television history.
Griffith's future with The Young and the Restless has been uncertain since reports surfaced last month questioning whether or not he might have been overstepping his authority at the CBS soap. According to published reports, Griffith had been rewriting storylines and dialogue, something that is strictly forbidden by the Writers Guild of America. After being admonished, Griffith is said to have immediately changed his practices.
Rauch was appointed story consultant earlier this year by The Young and the Restless. As news of Griffith's troubles surfaced, Rauch's name was immediately mentioned as a possible replacement -- and rightly so. With more than 30 years experience, Rauch is no stranger to daytime television. He has served as executive producer for Another World, Guiding Light, One Life to Live, and Santa Barbara.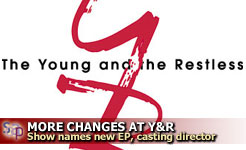 Rauch suffered a heart attack in 2006, but went on record shortly afterward saying that his doctors had given him a "clean bill of health".
Meanwhile, head writer Maria Arena Bell has also received a promotion. Bell will share the executive producer helm with Rauch. Fans fearful that having one person at the head of both the writing and production teams can breathe a sigh of relief. A show spokesperson insists that there will be no mad grab for power, and the show will not be a single vision from an all-powerful leader.
"Paul will be overseeing the production of the show and Maria will continue to be in charge of the story," a spokesperson explains.
In other changes, Camille St. Cyr has been named Y&R's new casting director. St. Cyr joins the show with previous daytime experience in the same capacity on General Hospital and Port Charles. She has also cast numerous primetime pilots.