In more than three decades of playing Genoa City's grande dame, Jeanne Cooper (Katherine Chancellor) has seen her soap's popularity rise and fall in cycles. According to Cooper, viewers seem to like it best when the show concentrates on being a "tapestry of daydreams."
"People like that, thinking, 'If I weren't me, who would I be?'" says Cooper, who marks her 35th anniversary on the soap next January. "It's basically taking people away from their credit card debts and the question of who is going to be president and just giving them an hour when their mind can go somewhere else. I remember being on a plane one time, and the flight attendant leaned down and said very quietly, 'I do not believe for a minute that you killed your husband'," Cooper recalls with a laugh. "I could almost see the ears go up on the woman sitting next to me!"
Earlier this year, the 79-year-old Cooper won her very first Daytime Emmy Award. Nominated seven times previously, Cooper was stunned when her name was announced as the Outstanding Lead Actress winner.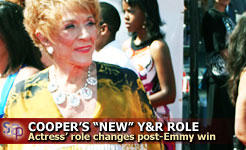 "I bet you thought I had died," Cooper deadpanned as she accepted her trophy, a playful nod to her 2005 Lifetime Achievement honor at the Daytime Emmys.
Cooper isn't about to rest on her laurels. The actress recently wrapped production on the comedic feature film Donna on Demand. The movie stars Cooper son, Corbin Bernsen, and Cooper's Y&R co-star Adrienne Frantz (Amber Moore) in the title role.
"I play an old porn queen who was in a car accident, so now she directs and produces computer porn on demand," Cooper says. "I thoroughly enjoyed it. The language is just hysterical!"
Meanwhile, Cooper is about to see her workload double on The Young and the Restless -- and viewers will be seeing double. The CBS soap is planning to bring back Marge Cotrooke, Katherine Chancellor's doppelganger. It's been 18 years since Marge was last spotted working as a waitress in Genoa City.