Doctors Without Borders will find their borders greatly expanded this month when Dr. Olivia Barber Hastings Winters returns to Genoa City from Africa, where she has spent the last few years working with refugees. The return was facilitated through a special arrangement between Y&R and actress Tonya Lee Williams (Olivia Winters).
The twice Emmy-nominated Williams returned to The Young and the Restless set at the end of September on a recurring basis. The actress states that commitments outside of daytime television prevented her from returning on a more full-time basis
"I won't sign a long-term contract because of my film career and Reel World Festival responsibilities," she explains, "but I'd pull a Tracey Bregman and continue in good faith."
Bregman, who co-stars on The Young and the Restless as Lauren Fenmore, is a long-time Y&R star who has been featured prominently in storyline, but is only on recurring status with the show. Not having a contract hasn't worked against Bregman. The actress was among this year's Outstanding Supporting Actress Emmy nominees.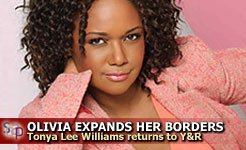 Williams founded ReelWorld in 2001 in order to create opportunities for diverse talent in Canada. ReelWorld is now a major film festival, supported by actors like Robert Townsend, Eriq La Salle, and Sandra Oh. Williams recently appeared in the film, Poor Boy's Game with Danny Glover. The movie is in the October rotation on the Showtime cable movie channel, and is also available on DVD.
Though she is excited to be returning to Genoa City, Williams admits that she doesn't know what the show has in store for her alter ego.
"I have no idea what my storyline is or (who) I'll be involved with," the actress told TVGuide Canada. "I love Y&R and I'm ready to come back. [Head writer] Maria Arena Bell knows what she's doing."
Will Olivia's return bring about the return of her son, Nathaniel, last seen as an adolescent obsessed with football? It would be a "smart idea" to add Nate Hastings to Y&R's emerging teen set, the actress says, but the show would probably need to recast the role in order to do so.
Bryant Jones, who tackled the role of Nate from 1995 to 2002, is now 17 and a senior linebacker for Oxnard High School in California. Jones is being heavily recruited by college football coaches. His 4.2 grade point average is bringing him attention from Ivy League schools and the University of Oregon, among others. Although he hasn't ruled out acting again someday, right now his attention is firmly on school and sports.
Olivia was last seen in Genoa City, comforting her brother-in-law Neil Winters, when her sister Drucilla died in 2007. Williams began playing the character in 1990.
Dan J Kroll also contributed to this article.