In a move that seemed to catch everyone by surprise, Soap Central has learned that Erin Sanders (Eden Baldwin) has been fired from her role on The Young and the Restless. Bolstering the claims of a surprise firing, two publications have printed interviews with the actress well after her final airdate.
A popular soap magazine published a "getting to know you" profile on the actress in one of its early November editions. Sanders' hometown newspaper, the Cherry Valley (California) Press-Enterprise, also ran with an interview of their own, unaware that the young starlet had spent her last day on the Y&R set a few weeks earlier -- and a replacement actress had already been hired. Bother interviews, however, were conducted well in advance of Sanders' exit from the CBS soap.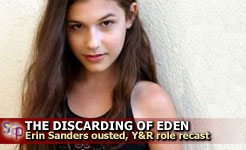 "Apparently there have been some 'rumors' started about my no longer being a part of The Young and the Restless. The answer is yes, I will no longer be portraying the character of Eden Baldwin," Sanders tells Soap Central. I wasn't sure when the show would want this information to go public, so I waited to tell you guys until after it was spoken of elsewhere."
If the uncasting decision seems to have caught the media off-guard, Sanders hints that she sensed her time in Genoa City might be coming to an end well before she was let go.
"There are no hard feelings whatsoever. I had a wonderful time working on the show. The thing here is authenticity. Eden is a 15-year-old girl, and I am verging on eighteen. A lot of growing up goes on during those few years, and Y&R has opted for a genuine 15-year-old. This sort of thing happens all the time on soaps."
Meanwhile, 16-year-old Vanessa Marano has been tapped to replace Sanders, and has been at the Y&R studio filming since November 4th. The teen actress has a long and impressive resume, including long runs on shows like The Gilmore Girls and Without a Trace. Marano began her career on stage at the age of seven, contributed voice work to the animated film Finding Nemo, and was directed by Christopher Reeve in the film about paraplegia, The Brooke Ellison Story. One of the youngest members of the Academy of Television Arts and Sciences, Marano is also taking freshman level college courses.
Sanders debuted on Y&R in August, and appears for the last time on November 19th. Marano begins airing on December 3rd.