There's a new love interest on the way for Jack Abbott. Veteran actress Stacy Haiduk will join the cast of The Young and the Restless next month as Mary Jane, the new PR rep for Jabot Cosmetics.
Haiduk most recently appeared as the slightly-off Hannah Nichols on All My Children. On the ABC soap, Haiduk had the opportunity to play a soap opera villainess, who was reeling from the tragic death of her son. It's too soon to tell if Haiduk's new alter ego will have homicidal tendencies, but her job as the public relations rep for Jabot will at least give her the opportunity to put a positive spin on things if she does.
In addition to her work in daytime, Haiduk has an extensive number of primetime appearances under her belt. The actress' first big break came in 1988, when she landed the role of Lana Lang on the series, The Adventures of Superboy. When the series ended four years later, Haiduk went on to appear on SeaQuest 2032. Other notable parts include recurring roles on Melrose Place, Heroes, and Prison Break.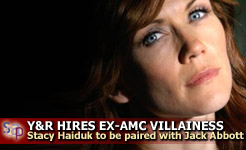 Haiduk hasn't limited her role to television. She has appeared in nearly a dozen feature films, the biggest being the soap opera spoof, Nurse Betty in 2000 -- but her scenes ended up on the cutting room floor. She also appeared sans clothes in the 1990 movie, Luther the Geek.
Haiduk has already started taping at The Young and the Restless. She'll first air on March 18.