Michael Graziadei (Daniel Romalotti) has spent the last five years playing Daniel Romalotti on The Young and the Restless, but his time on the show may be running out. Rumors that he may not sign a new contract this year have been gaining intensity for months. The show has issued a steady stream of "no comments," but it looks like things are changing.
In December, insiders were adamant. "He's leaving," they said.
Despite his affection for the show and the character he plays, Graziadei wants to spread his wings and advance his career. The actor recently paid a visit to his hometown, Nashua, New Hampshire, and indicated that soaps are just the beginning for him.
"I want to do a Western and a war movie, considering those were the films I loved growing up," said Graziadei in an interview with his hometown paper, the Nashua Telegraph. Working on the Young and the Restless pays the bills, at least for now.
Keeping career advancement in mind, Graziadei has pursued and won a variety of roles over the last few years in both television and film. On the tube, he's landed stints on the new 90210 and an episode of the new ABC primetime detective series Castle. On the silver screen, Graziadei has appeared in the Into the Blue sequel, The Reef, and he's about to wrap a second film.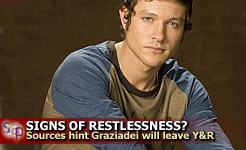 Production work is now winding up on The Outside, an indie movie slated for release later this year. Filmed around his Y&R schedule in Los Angeles, and on San Diego's La Jolla Shores Beach, the movie tells the story of surfer Ned Blakey (Graziadei). The script follows Ned's successes, his downfall, and his struggle to re-establish himself. Also in the film is Graziadei's daytime co-star, Nia Peeples (Karen Winters, Y&R, who plays his mother in the film.
"I'm the lead, isn't that nuts?" Graziadei enthuses.
Graziadei is a man on the move with clear ideas about what he wants to do in the future.
"Anything that's challenging. Anything that's different," he hints. "Anything that's the complete opposite from who I am, I think would be really fun to play."
The Young and the Restless may already be plotting out a potential exit story should the need arise. Daniel Romalotti's girlfriend, Amber Moore is getting closer to Kevin Fisher every day, and Kevin's wife, Jana, will soon start noticing. What happens next could be up to Michael Graziadei.
Graziadei joined The Young and the Restless in May 2004. In 2005 and 2006, the actor received Daytime Emmy nominations for Outstanding Younger Actor.