Storylines aren't the only things heating up the set of The Young and the Restless. Backstage insiders are buzzing about Emmy winner Jess Walton's (Jill Abbott) unexpected time off from the top-rated CBS soap. Initially, Walton's health was blamed as the reason the actress wasn't showing up for work. Now, however, there's a decidedly different take on her situation.
Contrary to a report published on Soap Opera Digest's web site, Walton isn't missing-in-action because she's ill. Though the actress has admittedly been feeling under the weather, TVGuide Canada's soap blogger Nelson Branco reports that the actress bolted after being told she had to work for less money.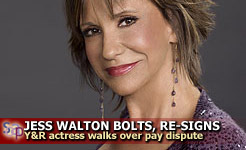 "Y&R asked her to take a pay cut, and she walked off the set," Branco posted in his latest blog entry. "She had been feeling ill, but that's not the reason she bolted."
Many daytime stars have made waves over the years about not wanting to take a salary cut, but Walton appears to "be the first daytime actor to actually stand up to these pay cuts everyone is being forced to take."
When Walton initially walked out, the casting department at The Young and the Restless went into overdrive trying to find someone to take over the role of Jill. The character is currently involved in major story, and there was no way that the show could work around not having someone play Jill.
Last week, a casting call went out for the role of Jill Abbott. The notice shocked many insiders, especially since shows will typically use false names when casting or recasting major roles. The casting call sought an "established actress" for the contract role. In the notice, Jill was described as "late '50s, Caucasian, female. This sexy, fiery woman is a smart and confident CEO of a successful company. While she is strong and can hold her own, she is also a mother and grandmother who wants what is best for her family."
Almost immediately upon hearing of Walton's exit, names of other industry vets began surfacing as possible new Jills. Recently ousted Days of our Lives star Deidre Hall's (ex-Marlena Evans) name seemed at the top of many fans' lists of recasts. One actress that The Young and the Restless might have considered was Finola Hughes (Anna Devane, General Hospital). Hughes had previously agreed to appear in a short-term role on Y&R last year, but ABC appealed to Hughes's sense of loyalty -- and the promise of a big storyline -- to convince her not to appear on a rival network.
In what can surely be seen as good news for the show and its viewers, there is no longer a need for the casting call. A show source tells Soap Central that Walton and show executives have come to terms and Walton has re-signed with the CBS soap. It's unclear which side blinked first, but Walton has reportedly agreed to take the required pay cut.
Walton joined the cast of The Young and the Restless in June 1987. She assumed the role from Brenda Dickson, who originated the role in 1973. that Dickson doesn't carry the instant name recognition that the show is looking for. --->
Requests for a statement went unreturned by CBS.