Nia Peeples (Karen Taylor) has broken her silence about her recent firing from The Young and the Restless. The actress has leveled some pretty serious allegations against show brass. The actress also braved the waters of Internet message boards to see what fans thought of her work on the show. She was surprised by the response, and took time out to post a message to Soap Central readers.
In a chat on Brandon's Buzz, a program on the Internet radio station, BlogTalkRadio, Peeples revealed that she almost skipped her audition for The Young and the Restless. Her agent had contacted her to go in and read for the part of a "23-year-old Black woman." Peeples says she laughed, and replied that she was neither 23 nor African-American. More than that, Peeples says that she "never really cared for soap operas."
This is not the first time that Peeples was let go by The Young and the Restless. Last year, the show attempted to cut her loose, but upon reviewing her contract, the actress learned that she could not be fired. According to Peeples, the show can release any actor from their contract after 26 weeks. However, the show must notify the performer six weeks prior to the end of that contract cycle. Because she had already started work on her next 26-week cycle, Peeples couldn't be let go.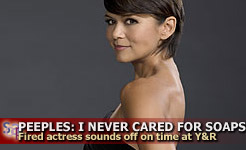 Subsequently, the show was forced to weave Peeples' character into storyline in order to have a purpose for Karen. When the actress' next contract cycle ended, she was shown the door.
During her time at The Young and the Restless, Peeples states that she had to deal with a lot of issues that made her somewhat uncomfortable. The first, she claims, was a "lack of communication between the creative powers that be and the show's talent." Peeples states that she had asked head writer Maria Arena Bell for help in understanding more about Karen's drive and thought process to make her portrayal more believable. Surprisingly, according to Peeples, Bell never returned her phone calls. Peeples adds that you "can't ask questions" in daytime because of the sheer volume of material that is being produced by the writers. If you start asking questions, she asserts, you can find holes in story -- and show executives don't want to think about that.
Next on Peeples' list of difficulties was the apparent unpreparedness of her co-stars.
"Kristoff [St. John (Neil Winters)] is good on his feet. He comes in and he's not prepared a lot," Peeples reveals. "He won't remember dialogue and he'll mess that up sometimes, but I push him to listen to me and he can respond appropriately."
Though she never mentioned her name, Peeples also fires off at Eva Marcille (Tyra Hamilton) for "not listening" to her.
"I had a scene with... someone... and it was dramatic," Peeples recounts. "I had already come to a place where I was livid and was ready to rip her heart out. Had there not been a table between us, she probably would have been taken down to the floor. [Marcille] didnt have very much to say, but she wasn't receiving what I was saying or what I was feeling. So the director actually stopped it and the producer chimed in over the intercom and said, 'You gotta get in the scene. You're acting like nothing is going on.'"
Peeples goes on to say that she didn't have great story during her time on The Young and the Restless, and hints that she can count her memorable material on one hand.
"I've only had about a handful of really good scenes," Peeples said in reviewing her 18 months on The Young and the Restless.
As for her farewell, Peeples says that she wasn't told when she'd be taping her final scenes. Peeples states that she had been told that she'd be dropped to recurring, with the possibility of more appearances in the future. When she arrived to tape those scenes, Peeples says that she found out in the script that her character was leaving Genoa City for good.
Now that the actress has left daytime, she says that she recently gathered up the nerve to see what fans thought about her work on the Soap Central message boards.
"I just wanted to take the time to thank all you Y&R fans for sending your messages of appreciation and best wishes as well as for your dedication and insight," Peeples says in a post on Soap Central's Y&R message board. "I don't usually read message boards and blogs and such as they can be pretty tough to get through on a personal level. Having been in the public eye for over 25 years you'd think one would get used to the overly passionate expressions of both dislike and admiration. But honestly no one's skin is that tough. We all crack once in a while. But [my webmaster] encouraged me to have a look. So when my last episode aired I gathered up my nerve and had a peek. After preparing myself for the worst, I had a good long read and I must say I was overwhelmed by the response."
"You, the Y&R fans, should be given a ton of credit. Rather than merely stating your likes and dislikes of the characters and storyline, you all are so devoted that you actually distinguish between executive producers, writers, and show runners," the actress continues. "You recognize the difference between an actor's performance and the material he or she has been given. You know the storylines and history better then we do and YOU CARE. That takes intelligence and absolute devotion. Hats off to you the fans. Y&R, or any soap for that matter is nothing without you. Never again will I feel frustration over having not been given a driving storyline. And I am so glad I chose to squeeze as much as I could out of each and every moment that I was given. It was my absolute pleasure to give everything I had in the portrayal of Karen. You are worth the effort."
Peeples last aired on April 20, but will return on May 14 to wrap up her storyline.