For the second time in a year, actress Vail Bloom (Heather Stevens) is the subject of ouster rumors. And, for the second time, it appears that the rumors are off the mark.
As the calendar turned over to a new year, insiders hinted that Bloom had been taken off contract with The Young and the Restless. A rep for the actress issued an immediate denial, stating that Bloom's "option was just picked up," meaning that fans would be seeing a lot more of the actress.
The agent's remarks were met by more whispers that Bloom's stay was merely extended by another 13 weeks -- and that she'd be downgraded to recurring status immediately thereafter.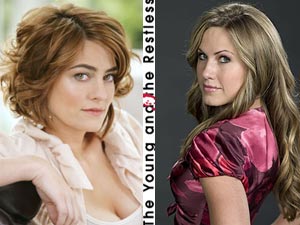 Well, it's now just about two contract cycles -- or 26 weeks -- later, and there's word that Bloom has, in fact, been demoted to recurring status. Moreover, there are behind-the-scenes rumblings that the role of Heather may be recast. The recast rumors first cropped up when Y&R's casting department recently began using some of Heather's old scripts to audition a new wave of actresses.
Soap Opera Digest reports that the magazine was told "not to assume the show is recasting the lovely lawyer." A show source echoes the report, telling Soap Central that the show doesn't want anyone to catch on to the role that they are really recasting.
If it is to be believed that the role in question is a character around the same age and ethnicity as Heather, there are few characters currently on the canvas that would fit that mold. Soap Central has heard rumblings that the show may very well be recasting the role of Mackenzie Browning. Fans have been vocal over the past few months about their displeasure with the show's placement of Clementine Ford in the role.
Some Internet postings claim that the script is being used to secretly recast the role of Nikki Newman. Long-time veteran Melody Thomas Scott (Nikki Newman) has recently re-signed with Y&R, so the recast is not for Nikki.
A spokesperson for The Young and the Restless had no comment.
Photo: CBS Television