Two-time Emmy winner Michelle Stafford (Phyllis Summers) will not be leaving The Young and the Restless any time soon. The actress has signed a new contract with the top-rated CBS soap.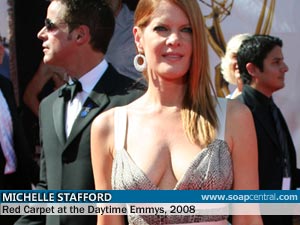 The new contract will also afford the actress the opportunity for some much-needed time off. According to an article in the New York Daily News by soap columnist Carolyn Hinsey, Stafford will be off-screen for about four to six weeks later this summer.
Stafford joined the cast of The Young and the Restless in 1994. She exited in 1997, but returned in July 2000. She's been with the show ever since. Stafford has won two Daytime Emmys during her Y&R tenure: an Outstanding Supporting Actress trophy in 1997 and a Lead Actress win in 2004. Additionally, Stafford amassed five consecutive nominations for Outstanding Lead Actress between 2003 and 2008.
The terms of Stafford's contract were not disclosed. CBS does not comment on contract.