Executives recently met with the cast and crew of The Young and the Restless to discuss the show's future. The town hall meeting was designed as a way for everyone involved to learn what lies ahead for the top-rated daytime drama series.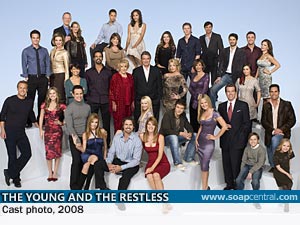 The Young and the Restless was recently given a two-year renewal by CBS, but with that renewal came a new sense of urgency for the show to cut its operating budget. It should come as no surprise to anyone that a soap has been asked to tighten its purse strings, but there has been a belief in some circles that The Young and the Restless was immune to the type of budget cuts that have hit other soaps.
However, Sony Pictures Television President, Steve Mosko, met with the cast and crew to explain that the show's new contract cuts the licensing fee. The reduced fee will result in reduced salaries and, perhaps, some job loss. In the wake of two highly publicized contract negotiations, show sources say that Mosko was hoping that his appearance would help prevent further uprising.
"Instinctively, I doubt it will make much of a difference," remarks Sara Bibel, in her Deep Soap blog on Fancast. "There is no way to make anyone in any industry feel good about making less money. But at least for a little while an executive made an effort to treat daytime staffers with respect."
The Young and the Restless isn't just giving lip-service and a pat on the back. The Japanese-based company has a lot riding on what goes on in Genoa City.
"Both Y&R and Days of Our Lives are important to Sony because the shows are very successful internationally," Bibel notes. "The license fees the studio receives from the networks pays for the production of the show. The studio then makes a considerable profit selling Y&R all over the world, from Australia to Israel."