Daytime television has seen its fair share of oddly matched couples, be it on the soaps, talk shows, or court shows. But there's never been anything quite like The Young and the Restless' Mary Jane Benson/Patty Williams and her furry companion, Mr. Kitty. When it came time to get ready for the Red Carpet, actress Stacy Haiduk tells Soap Central that she couldn't think of a better companion than her co-star. That's right, Haiduk's "date" was her inanimate co-star.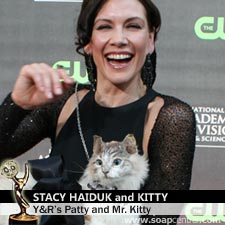 Soap Central: We have a history of someone on All My Children, Hannah Nichols, who wasn't exactly grounded, and now we have someone on The Young and the Restless...

Stacy Haiduk: Who's extremely grounded... don't you think? And she brings her own cat co-star to the Emmys with her.



So what is it about Stacy Haiduk that can bring these...

Psychotic things to life? (laughs)



Is that what you want to say?

I don't know. What do you think? (laughs)



How about colorful characters with interesting histories?

Ooh, that sounds professional! (Laughs) I think the key to my crazy [acting] life is... I guess maybe because I have a stable personal life, I can play these insane characters and have a good time with them. Because they are fun!



Looking back, what is the craziest thing -- that we can print -- that you've done in your life that makes you say, "Oh no! Maybe I'm Mary Jane!"?

Let me put it this way, I think if someone were to tell me ten years ago that I would be working with a dead cat, I would have said, "You're crazy." From all the stuff that I have done in my career, which is playing business women and cops and prison breaks... I had no idea this was coming and I read it in my script and I was like, "Oh my, God. This is insane." But Maria Bell came up with this fantastic piece work and playing it, I finally went, "Okay, I'm going to go with this."



If you had to pick a replacement animal for Kitty...

Oh, no! Not, Kitty!



No, I know it would be a, um, catastrophe, but if you had to swap out Kitty, would you pick a giraffe, a lemur, a possum? (laughs)

How about a black panther? That would be good. Can you see me bringing that next year?



I don't think it would fit around your neck. It would probably need wheels.

Yea, it would be a little big, but I could work that and maybe ride it down the Red Carpet!