Fans of The Young and the Restless have had just over a week to digest the news that Eric Braeden (Victor Newman) has been written out of the show. Due to the series' production schedule, it's still several weeks before Braeden's final scenes air. But fans are wondering what will happen to the top-rated daytime drama program if Braeden and show brass are unable to come to terms on a new contract.
For his part, Braeden has opted to break his silence and let fans know what's really been going on. The actor asserts that his dismissal from the show was all part of a "calculated" plot by executives at Sony Pictures, the production company of The Young and the Restless, who used a very legal clause in his contract to get what they wanted.
As previously reported by Soap Central, Braeden, who is currently under contract with Y&R through November 2010, was asked by the show to accept a salary cut. Braeden was said to have objected, noting that his contract guaranteed him a set salary until its expiration.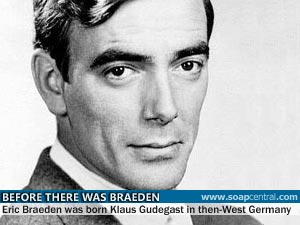 "[A]s it turns out, the contracts you sign are not worth the paper they're written on thanks to this ridiculous clause where they have a right to change anything or let you go every 26 weeks," Braeden told Michael Logan of TVGuide Magazine. "It's a joke. Our union ought to be ashamed of itself for having [allowed] this. And for the show to actually invoke that clause after one has served loyally and lovingly for 30 years is unconscionably ungracious."
"When I sign a three-year deal, I'm obligated to fulfill that deal. The producers, however, can come to me after a half-year and say, 'We've changed our minds.' Where in the world of business does this kind of contract exist?" Braeden told Entertainment Weekly.
"It's not that one hadn't agreed to a reduction, but they hit you with a sledgehammer," the actor added in an interview with Soap Opera Digest. "It's done in such an insulting fashion. It could have been dealt with in a far more gracious way. It is cold and hard-nosed... The whole thing was so calculated it was unbelievable... It's not even about the money."
"I was the first one [to offer to take a paycut] because I knew that if we all did it, we would insure the continuation of the show," Braeden explained. "I did it two years ago when I signed my last contract, which I thought would last until next November."
In a time when soaps are trying to cut their costs to remain viable, it always seems that the bottom line must have a dollar sign attached to it. Braeden, however, claims that Sony's hard-line position is "all about intimidation." Some insiders say they saw trouble coming when, at a cast meeting earlier this year designed to inform the cast of some upcoming cost-cutting measures, Braeden was the only cast member not in attendance.
As for whether or not there is any chance that he'll return to The Young and the Restless, Braeden wants fans to know that nothing is written in stone.
"It is not a fait accompli, but I am seriously thinking about various other career options. As you know, I came to Y&R from film, from nighttime television, from theatre," Braeden notes. "I still feel full of piss and vinegar. We shall see what happens. It's been a wonderful ride, and I'm very grateful to have played this role for as long as I have.