As previously reported by Soap Central, The Young and the Restless has been working behind-the-scenes to recast the role of Malcolm Winters, originated by model-turned-actor-turned-Emmy winner Shemar Moore. In a surprising move, the show has tapped a former child star for the role.
Darius McCrary, who is best known for having appeared in the 1990s as Eddie Winslow on the ABC family-friendly sitcom Family Matters, has inked a multi-year deal to appear as Malcolm. McCrary reported for his first day of work on November 18. News of McCrary's addition to the Y&R cast was first reported by Entertainment Weekly.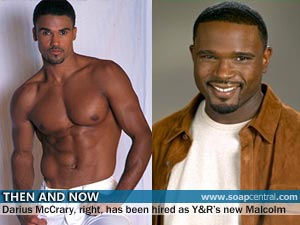 "We are thrilled to have the character of Malcolm back on Y&R," Y&R co-executive producer and head writer Maria Bell said in a statement. "Malcolm, Neil Winters' brother, has always been a catalyst to exciting stories. He's coming back to town to see his brother and to reunite with his biological daughter, Lily Winters, as she fights for her life. Malcolm is a photographer ... someone who lives on the edge and who always pushes the envelope."
Bell had previously expressed her desire to have Malcolm back on the canvas full-time. While the top-rated CBS soap did approach Moore about reprising his role, the actor was unavailable because of his work on the primetime drama, Criminal Minds. Sources tell Soap Central that Moore might have been able to return for a handful of special appearances, but there was never any chance that he'd sign a contract with the show.
In landing the role of Malcolm, McCrary reportedly beat out some soap opera vets. Marcus Patrick (ex-Jamal Cudahy, All My Children; ex-Jett Carver, Days of our Lives) was spotted at the Y&R studio and there have also been reports that former Passions' hunk Charles Divins (ex-Chad Harris) also read for the role.
Since Family Matters ended its nine-year run in 1998, McCrary has gone on to make several guest-starring appearances in primetime. He also appeared in this year's sixth installment of the Saw horror movie franchise.
In 2006, the Internet was awash with reports that McCrary had died. Obviously, the rumor turned out to be a hoax. The source of the rumor was never discovered.
When McCrary first reported for work, he was greeted by a familiar face. McCrary's former Family Matters co-star, Bryton James (Devon Hamilton), who played Richie Crawford, has been a member of the Y&R family since 2004.
McCrary debuts on The Young and the Restless on December 29.