The Young and the Restless stars Thad Luckinbill (J.T. Hellstrom) and Amelia Heinle (Victoria Newman) are the proud parents of their second child together. The on and off-screen couple welcomed a little girl, Georgia March, on December 17. Georgia joins big brother Thaddeus, who was born in 2007. Heinle and Luckinbill have been married since March 2007.
Heinle has a 13-year-old son from a previous relationship.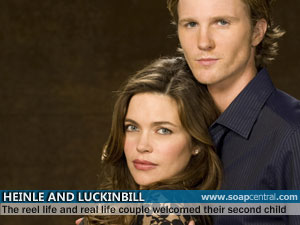 There has been a great deal of Internet speculation about Heinle's future with The Young and the Restless. Earlier this year, an online report claiming that Heinle might not return from her maternity leave created a whirlwind of rumors. A casting call for a "30something" female character just added fuel to the fire.
Heinle has given no official indication that she plans to step aside from her Y&R role. Likewise, a show spokesperson insists that Heinle will return following her maternity leave, though an exact date for her on-screen return has not yet been determined.
Meanwhile, the Y&R baby boom continues. Heinle and Luckinbill's co-star, Michelle Stafford (Phyllis Summers), is a proud new parent as well. For more on her baby story, click here.
Photo: Robert Voets/CBS Television