This week, Darius McCrary makes his much-anticipated debut as The Young and the Restless' new Malcolm Winters, the role previously played by Emmy winner Shemar Moore. Since the top-rated CBS soap announced that McCrary would be taking over the role last month, there's been quite a bit of discussion about the casting decision.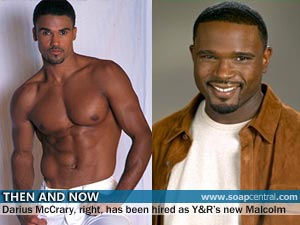 Now, in a new interview with Michael Fairman for his On-Air On-Soaps web site, McCrary breaks his silence about the brouhaha that erupted over the recasting of Malcolm. The former Family Matters star praises Moore, but matter-of-factly talks about how he plans to make the role his own -- without the specter of another actor looming over him.
"I have been doing this long enough to know a few things. Look, Shemar is a great guy and a great actor, and a beautiful human being, but he is Shemar and I am Darius," McCrary explains. "I have been [acting] since I was nine years old. So whatever the role is, I am going to do the best I can do. [..] Nobody brought up Shemar and it's cool. It has not been a thing of 'Oh, Shemar did this.' Everybody is giving me the love and respect to allow me to do what I do as an actor, and that was one of the beautiful things about this from the beginning. When I went in I did not know what to expect."
Much has been said about this recast: from an age difference between Moore and McCrary to physical differences between the two stars. A Y&R exec stated that the show wanted to focus less on who was playing the role and more on getting the character back to where he was when Malcolm first debuted.
This is McCrary's first gig on a daytime drama series. In fact, the audition process for the role marked the first time that he'd even tried out for a soap.
McCrary first airs on December 29.