Heads are rolling at The Young and the Restless. In an unexpected casting decision, the show has hired Marcy Rylan (Lizzie Spaulding) to take over the role of Abby Carlton. If the news is a surprise to viewers, it was equally surprising to Rylan -- who had no idea that she was even on Y&R's radar.
"I went in to meet with [executive producer-head writer] Maria Bell -- who is just awesome -- but I thought I was just having a general meeting. I didn't realize there was a part to discuss, so it was a huge surprise when she brought it up. I couldn't believe it!" Rylan told TVGuide Magazine's Michael Logan. "I went out to the parking lot and I'm like, 'Oh, my God, I think I'm going to be on Y&R!' In my mind, this was always the soap I wanted to be on. Every time I would judge the Emmys, Y&R always had the best actors. Uh... after GL of course! [Laughs]"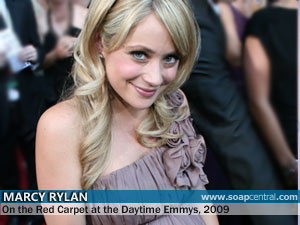 In recasting the role of Abby, Y&R's writers will have a little explaining to do. Currently a teenager, Abby Carlton was born on-screen in November 2000 -- meaning that the character should be 9-years-old in the real world. Rylan was also born in November -- but 20 years earlier. This will not be the first time that the show has "aged" Abby. After being away for a few months, a previously tween Abby returned to Genoa City in 2008 as a 14-year-old.
Rylan becomes the third actress in three years to play the role of Abby. Darcy Rose Byrnes appeared as Abby from 2003 through 2007, making her the longest-running Abby to date. Hayley Erin, who is currently tackling the role, joined The Young and the Restless in December 2008.
The decision to recast the role is strictly being dictated by story. Writers typically are stymied when they have to write compelling storylines for younger characters.
Rylan joins the cast of The Young and the Restless with previous experience as a recast. She appeared for three years on Guiding Light, taking over the role of Lizzie Spaulding from Crystal Hunt in 2006. In each of her three years of eligibility, Rylan was pre-nominated by her peers in Guiding Light's in-house Outstanding Supporting Actress Daytime Emmy vote.
Rylan reports to work the week of April 5, with an expected first airdate around May 10.