David Hasselhoff (Snapper Foster) is returning to The Young and the Restless this summer as part of the top-rated soap's plan to focus on the Foster family. And Hasselhoff isn't the only actor returning to help foster a little Foster love.
"In 1976, Bill Bell, creator of America's No. 1 soap opera, took a chance on a young and very green actor," Hasselhoff said in an exclusive statement to Entertainment Weekly. "Playing Snapper in 850 shows during the six years I appeared molded my craft, my attitude, and my work ethic. Being asked to come back to appear in several episodes gives me a chance to say thanks, as I have an amazing amount of respect and heartfelt emotion for Bill, his family and my time on Young and the Restless. I just hope I can remember all those lines."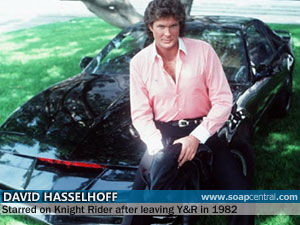 It's been 28 years since Hasselhoff last appeared on daytime. When he exited the show in 1982, William "Snapper" Foster, Jr., left Genoa City to accept a three-month fellowship opportunity in London. He ended up relocating there permanently, and returned only briefly to Wisconsin in early 2003, when William Gray Espy, the actor who originated the role in 1973, made a surprise visit.
While Snapper has been off-screen for nearly three decades, Hasselhoff has been busy making a name for himself in numerous other projects. He will, however, perhaps be best known for two primetime projects. For four years in the mid-1980s, Hasselhoff portrayed Michael Knight opposite his mechanical co-star, K.I.T.T. the talking car, on Knight Rider. From 1989 to 2000, "The Hoff," as he's come to be known, starred as the oft-shirtless Mitch Buchannon on Baywatch.
More recently, Hasselhoff appeared for four seasons as a judge on the reality series, America's Got Talent.
Hasselhoff isn't the only Foster headed back to Genoa City. He'll be joined by his on-screen brother, Wings Hauser (Greg Foster), and Foster family member, Julianna McCarthy (Liz Foster Brooks). In a bit of interesting trivia, this will be the first time that Hasselhoff has worked with the actress who plays his fictional sister, Jess Walton (Jill Abbott). Walton joined the cast of The Young and the Restless in 1987 -- five years after Snapper was written out. It was daytime veteran Brenda Dickson who appeared as Jill during Hasselhoff's original run with the show.
Though no one will comment officially, it seems highly likely that Hasselhoff's return to daytime will be chronicled in his upcoming reality series. The still-untitled project will air later this year on A&E.
An exact first airdate has not yet been announced, though Hasselhoff is scheduled to report to the Y&R set next month. Those scenes will air sometime in mid-June.