After months of speculation surrounding his future with the show, a published report states that Emmy winner Kristoff St. John (Neil Winters) will soon be exiting The Young and the Restless. The actor, however, says he's not leaving.
Citing a setside source, CBS Soaps In Depth reported that St. John "got out of his contract" and would soon be exiting the top-rated daytime drama program. The magazine's announcement followed an article by Fancast's Sara Bibel hinting that St. John might be contemplating some time away from Y&R.
According to Bibel, St. John has signed a deal to appear in a comedy pilot being developed by the Wayans brothers. An outline for the pilot has not been made available, but Soap Central has learned that the Wayanses previously pitched a comedy pilot to VH1 about an up-and-coming rapper.
Despite the claims that St. John was able to get out of his contract, neither Soaps In Depth nor Fancast has stated if the actor was able to get a permanent exit from the show, if St. John has been dropped to recurring status, or if he simply negotiated time away from the CBS series in order to work on the pilot.
Meanwhile, St. John has refuted the reports of his exit on his Facebook page.
"As of right now, today, I am not leaving The Young and The Restless," St. John said. "I love my daytime home and treasure it. I love all of you and thank you for your beautiful support."
Contrary to reports made elsewhere, Neil will not meet with a tragic demise next month. There will be upcoming scenes involving Neil's grave -- but it will be Neil Fenmore's grave, not that of Neil Winters.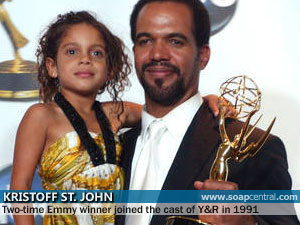 Last year, St. John was reportedly forced to take time off of the show following an appearance on an online radio program in which he spoke candidly about his character, storyline, and behind-the-scenes politics at The Young and the Restless. Though neither side publicly acknowledged that St. John's unexplained on-screen absence was a result of the interview, several of St. John's co-stars confirmed that network higher-ups were unhappy with the actor's frankness.
St. John debuted on The Young and the Restless in 1991. During his nearly two-decade long run with the top-rated CBS soap, the actor has amassed two Daytime Emmy wins. The first win was 1992's Outstanding Younger Actor award. Two years ago, St. John picked up what he called his first "grown up" Emmy when he was named Outstanding Supporting Actor. On top of the Emmy wins, he's earned four additional Emmy nominations for his work on Y&R and two nods for previous work on the short-lived soap, Generations.
St. John also has won an incredible nine NAACP Image Awards.
A spokesperson for The Young and the Restless told Soap Central that the show does not comment on rumors.