Eric Roberts joins the cast of The Young and the Restless this week, but don't call it stunt casting. For Roberts, this is more about returning to his roots -- even if it did take more than 30 years to do so. The versatile actor got his start in daytime in the 1970s when he appeared on Another World.
Roberts will take on the role of ruthless attorney Vance Abrams. Vance is the lawyer hired to represent Adam Wilson, a man who not only escaped from prison, but also faked his own death. According to story previews, Vance will have his work cut out for him.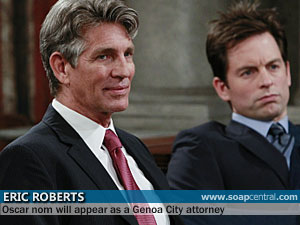 "He's certainly a guy to be reckoned with -- a badass high-powered attorney who's famous in the legal world -- but he is not a villain," Roberts said to TV Guide when asked to describe his character.
In 1977, Roberts joined the cast of Another World in the role of Ted Bancroft. Roberts would remain with the show for just four months. Though Roberts got his start in daytime, he is known to a wider audience for his film and primetime television work.
Roberts received Golden Globe nominations for his early starring roles in King of the Gypsies and Star 80. In 1985, he received an Academy Award nomination in the Best Supporting Actor category for his role as escaped convict, Buck, in the film Runaway Train.
More recently, Roberts appeared on NBC's Heroes, playing Eric Thompson, Sr.
Next month, Roberts will appear on the silver screen with Sylvester Stallone, Bruce Willis, and Jason Statham when the film The Expendables hits theatres. The movie is about a band of mercenaries who attempt to overthrow a Latin American dictator. The actor also reportedly has at least six other film projects in various stages of production.
Meanwhile, Roberts' run on The Young and the Restless will last about a month. The actor makes his debut on July 23, and he'll air through August.