Emmy winner Sharon Case (Sharon Newman) will unveil her new line of jewelry, POMP, on August 10 at 2:00pm Eastern/11:00am Pacific on the cable shopping channel, QVC. The collection will feature about 20 different pieces, some of which the daytime diva has been showing off during recent Red Carpet events.
To hear audio of this interview, please listen to the August 6, 2010 edition of Soap Central Live. The interview begins at the 45-minute mark, after an interview with Case's co-star, Eileen Davidson.
Soap Central: Let's talk about the name of your line -- POMP. Where did the name come from and what does it mean to you?

Sharon Case: For me, POMP means pomp and circumstance. It's that... sparkle and pageantry. It was important for us to have a one-syllable name and we were looking for a word that means bling.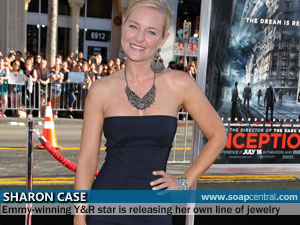 Where did the idea to start your own line of jewelry come from?

My best friend, Elif Inanc, is a stylist, so she's really into clothes and jewelry. And she's taught me a lot about it over the years. We really, really enjoy shopping together so much...
That sounds like trouble!

(Laughs) It can be, but I think that's what it takes. You have to have that kind of desire and passion for it.

Elif and I wanted to do a line where there was a piece for everybody, a piece for every occasion. We have some glamorous pieces and we have some everyday pieces that you can just wear with a t-shirt and pair of jeans.

The way jewelry is worn these days, most pieces that you could wear with a cocktail dress, you could also wear with your jeans. That's what's really fun about doing jewelry right now -- the way it's being worn.
Have you always had a fascination with jewelry?

Oh yeah. Definitely. From the time I was a little girl. When I was about 11 years old, my grandmother passed along all of her fashion jewelry to me. I thought I had walked into a room full of treasure. I not only had all this gorgeous jewelry -- it was really chunky, funky jewelry from that time -- but it was all this beautiful color. The jewelry had a lot of colorful stones, a lot of pearls, and just a lot of color. I just loved having this. Now all of that is back in style. I wish I still had some of the things that my grandmother gave me when I was a kid, but I don't.
I've always noticed that little girls always seem to have that one piece of jewelry that they'll always wear. Is there something from when you were little that you were just inseparable with?

Yeah! I had this beaded necklace, a double-strand beaded necklace, and it was made up of multicolor beads, and I loved it! And then I had a short rhinestone necklace that was also multicolor. And those two pieces I wore all the time. I really loved all the color of the stones.
From where do you draw your inspiration?

I guess we get the inspiration from fashion -- from what we're seeing in the clothing designs. Both Elif and I love clothes -- and we love putting together the jewelry with the clothes. It's really the clothes that are the inspiration for everything.

We have a beautiful picture of you in an emerald dress wearing several stunning pieces of jewelry. Are these items from your collection?

Yes! Those are pieces from our collection. That [photograph] is our main promo for QVC and those pieces are going to be sold on QVC -- but not on our first show. Those will be in our spring show. Our first show airs on August 10th.
The necklace that you are wearing in the photo really caught my eye. It's a beaded necklace with little mint green accent beads... I get the feeling that the necklace is going to be a big seller for you.

Well, thank you. Yeah, I have a feeling we're going to have to do a big order on that, too. We ended up just randomly using [the necklace] for the promo piece because that photo was just a beautiful photo. When we shot the publicity photos, there were a lot of photos of me wearing the different pieces with different outfits. And they all look great with what I am wearing, but that one in the promo -- the green dress -- really looked great, too. You can only pick one picture to use for your promo, and, of course, because that's the promo piece, that's the one that everyone wants.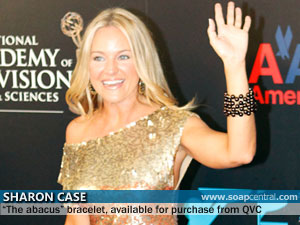 Speaking of promo pieces, I have a whole bunch of photos of you from the Red Carpet at the Emmys this year and you have sort of a... I am calling it an abacus bracelet. They're sort of little beads...

Yes! That is -- and that's a good name for it. The abacus. Maybe I'll steal that because it does look like an abacus. I think because it's in bronze, it may give it that look. It also comes in a mixture of white and grey pearls and that color combination makes the bracelet look a little more classic rather than the edgy [gold] look. A lot of our pieces can be ordered in different colors so that they'll go with whatever you're wearing. When you change the color of the piece, it can often change the style -- and that allows you to dress up or down.

That bronze bracelet -- the abacus -- is going to be available in bronze and in the grey-and-white pearl in the upcoming show on August 10.
On the Red Carpet you also had some eye-catching earrings...

Those are a tear-drop, chunky gold earring and they have a black wire crisscross going through the center. It makes it unique and a little edgy-looking.
For almost 25 years, QVC has been the premiere shopping channel on television. I've been to their campus here outside of Philadelphia and it's simply amazing. How did your partnership with them come about?

We always wanted to sell on QVC. QVC had asked me before about designing jewelry, but I was always so busy. When Elif and I started designing this jewelry, it was our original intention to go on QVC. I really liked the idea of being on television and having a show. It's not just about the jewelry, but it's something that will be fun to watch.
Are you at all nervous about going on camera as yourself rather than a fictional resident of Genoa City?

Not at all. I think it will be a lot like doing an interview. And Elif will also be there with me.
What can viewers and fans expect from your QVC show?

The pieces that we're selling on QVC are exclusive to QVC and you can't get those pieces elsewhere. If we do branch out into selling in retail stores, those will be different pieces. And when we do a second show for the spring on QVC, those will likely be different pieces from the first show.

The price range of the jewelry will be between $20 and $40. We may also have what I'd call a "showcase piece" that will cost a little bit more.
How many different pieces have you designed?

Oh, let's see. We're getting up there. If you include all the different colors, wow... close to 50 now. We have 20 or so pieces for the first QVC show -- plus we're already getting our spring line together.
POMP Style Fashion Jewelry by Sharon Case premieres on QVC on August 10 at 2:00pm Eastern/11:00am Pacific. Check your local listings for the channel in your area, or visit www.qvc.com for more information.