Michael Robinson, fullback for the Super Bowl XLVII Champion Seattle Seahawks, will appear in an upcoming episode of The Young and the Restless. What's the connection between Robinson and Y&R? He's a fan!
During a recent interview on NFL Total Access, Robinson revealed that his guilty pleasure is "watching the stories" on The Young and the Restless. When Y&R's producers learned of his interest, they invited him to make an appearance. Robinson jumped at the chance to visit Genoa City and was reportedly thrilled when he found out that he had been written into an upcoming episode, working with Daytime Emmy winner Eric Braeden (Victor Newman).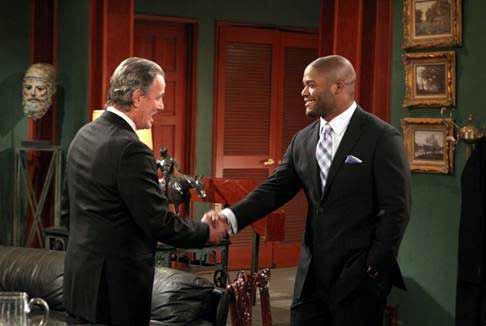 "It was an amazing experience! I've been a fan for years, and it was great to meet the personalities on the show," Robinson said of his time on set. "I've always thought Y&R was the best show on daytime television because their storylines are always entertaining and intriguing. They welcomed me with open arms, and I felt like a part of the Y&R family."
On Twitter, Robinson added, "Look forward to stopping by again!"
You can watch Robinson's appearance on Thursday, March 13.
Are you surprised that professional football players are soap fans? Do you know any athletes that are soap fans? Tell us in the Comments section below or share your thoughts via Feedback by clicking here.