Peter Bergman is in the midst of celebrating an impressive 30-year run as Jack Abbott on The Young and the Restless, and in honor of the actor and his contributions to the daytime genre, Watch! magazine has rolled out a "wow-worthy" photoshoot featuring the beloved performer.
Soap Central readers are in for a little something special because we have an early look at Bergman's spread -- which can be seen in its entirety in the issue set to hit newsstands today, Tuesday, November 19 -- along with two photos that you won't find anywhere else.
The holiday-themed photoshoot took place in Beverly Hills... in August. But looking at the photos of Bergman channeling his inner snowman, you'd never know it. That's probably why the Emmy-winning actor has managed to stay on top of his game for three decades on the CBS soap (and another ten as Cliff Warner on All My Children). Photographed by F. Scott Schafer, Bergman was styled in casual, elegant, and somewhat toasty styles of the season selected by Christina Pacelli. One of Bergman's favorite "accessories" for the photoshoot wasn't tinsel or a tree; it was the real-life puppy sidekick who, as you can see from the header image in this article, even made its way into one of the photos that appears in the Watch! spread.
In addition to the photos, Bergman chatted with Malcolm Venable about his incredible and "fortunate" 30-year run as Jack Abbott, which came his way when his wife was pregnant with their second child and his All My Children role had come to an end. Bergman talks about the surprising way he landed his Y&R role as well as another of the "great joys" of his life: playing the piano.
"At Christmas, with my extended family, at some point I play and we all sing Christmas carols," Bergman reveals.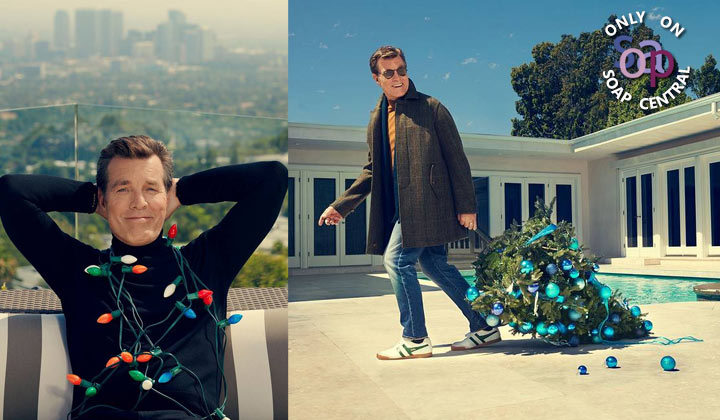 Bergman made his debut as The Young and the Restless' Jack Abbott on November 22, 1989, and the show is planning a very special episode to mark the occasion. That episode is slated to air on Monday. November 25, but that date could change if the show is preempted. Keep an eye tuned to Soap Central for updates.
If you're a fan of CBS programming, Watch! magazine has been offering a rare, inside look at some of the network's biggest stars for the past 13 years. The magazine also includes interviews and stories featuring talent from the entire CBS family of networks, including Showtime, the CW, CBS All Access, Pop TV, and more.
The November/December issue of Watch! is on newsstands now. If you prefer your magazines to be digital, you're in luck. The digital version of Watch! can be found at cbswatchmagazine.com as well as on a variety of platforms, including Zinio, Magzter, and Apple News.
What do you think about the photos that didn't make it into the Watch! magazine spread? Is there a Christmas carol that you'd want to hear Peter Bergman play? We want to hear from you -- and there are many ways you can share your thoughts.