The Young and the Restless Recaps: The week of May 3, 2004 on Y&R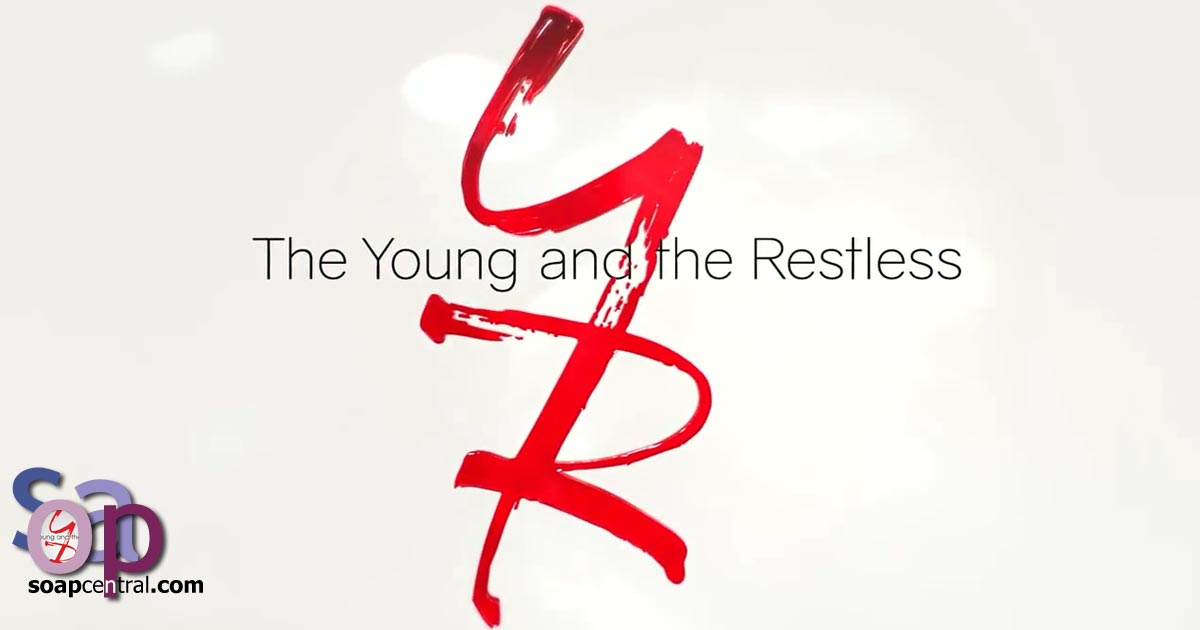 Monday, May 3, 2004
Nikki comes downstairs to see Victor. She is glad that the family meeting is over. Victor thanks her for her kind and appropriate words. He cannot believe Brad would just as soon sit by and hope that Abbey would forget she ever heard the words, "Victor is your father." Nikki tells Victor in some ways it would be good if Abby would forget. After all, Nikki wouldn't want Abby to have to testify in court. Victor doesn't want that either, but he does want Abby to be a part of his life. He senses Nikki's insecurity towards Ashley and tries to reassure her. Victor tells Nikki there is no place he would rather be. As Nikki feels her confidence come back, she turns to Victor and asks him what's on his agenda for Nick. She thinks and hopes that Victor will someday be able to forgive Nick for what he has done. Victor says he hopes to do that. He leaves to speak with Nick.
Sharon asks Nick if he would like to have dinner but he's not hungry. He can't stop thinking about what Victor said at the meeting. Nick thinks that Victor wants Abby in his life out of his own selfishness, not for what's good for Abby. Sharon disagrees, wouldn't Victor have the right to want to be in Abby's life? Nick says Victor also tried to make him sweat in front of half the Jabot board by mentioning his plan for a new CEO. Sharon tells him Victor wasn't trying to do that at all. If he had, he would have fired him right there on the spot.
When Victor comes to the door, Nick tells his father that he hopes to stay in his current position at Newman Enterprises. Victor tells him he will hire a new CEO. He does have a proposition for Nick, however. It won't be working for Newman Enterprises anymore. Nick will be by Victor's side, helping him with a community project that he is very excited about.
Ashley and Brad are pacing back and forth, agitated about the family meeting. Brad is really upset. He lays it out to Ashley. Victor-the man he can't trust, the man who killed their baby and made it so they will never be able to have another, is now trying to share custody with their only child. Ashley begs Brad to understand, it was something she had to do. Brad keeps harping on the repercussions. Ashley says it doesn't matter how Abby got there, she loves Abby and is proud of her little girl, does Brad still feel that way? Brad says of course, but with Victor in the picture, he can't see straight. Ashley tells Brad he is being an angry man, just as Abby comes downstairs. Brad picks her up in his arms and asks her if he will always be her daddy. "Of course you're my daddy," Abby says.
Damon is sitting on the stairs thinking about the ordeal with Drucilla and the hair-straightener. Phyllis brings him an herbal iced tea with a lemon twist. He takes a sip, but admits that he is really not that thirsty. He tells Phyllis that he is happy he didn't give an official resignation to Jabot. Phyllis says maybe when Damon goes back to work at Jabot they should "play it cool" for a while. Damon comes closer to Phyllis. "Are you listening to me?" he asks. He tells Phyllis that is not what he wants at all, unless she is becoming bored with him. Phyllis says of course that's not it, it's just it's going to be hard for Damon working at Jabot now that Jack knows about the two of them. Damon assures her that he doesn't care about that.
Drucilla goes to a specialist to try to get her hair fixed. As she's showing the specialist her large bald areas, Diane walks in and gasps. Drucilla is embarrassed and explains her situation to Diane. Drucilla says that Phyllis was evil and laughed at her hair. Drucilla spills the beans to Diane and says that Damon quit his job because of Phyllis. Diane attempts to convince Drucilla to try to go out with Damon. Dru says she would in a heartbeat, if she were not married. Dru wonders why Diane herself doesn't make a play for the infamous D Porter.
The three prisoners who beat up Kevin Fisher try to stop the guard from going inside their jail cell. The guard pushes his way through them and pulls the cloth over Kevin's face. He is in shock. Kevin looks dead. The other guards cuff the three men and they check Kevin's blood pressure. He is barely hanging on. When the ambulance arrives, the medics say Kevin is lucky to be alive.
Michael asks Bobby if he suspects that any of his people were involved in Brittany's accident. Bobby says no way, the cops were there and the only evidence they found was connected to Fisher. Michael suggests that maybe one of Bobby's goons had something to do with planting evidence against Fisher. Why would a measly little bookkeeper try to kill someone over getting fired? Bobby admits that to be true and shares his knowledge about the night Brittany was electrocuted. He had known that some of his men were going to show up that night and "talk" to Fred Hodges. But Bobby says he knows it wasn't them because they would never hurt women.
Detective Weber asks the guard how long they were away from the jail cell. The guard says he went outside to have a smoke, so probably five minutes. He couldn't name one single guy responsible for beating up Kevin. Weber calls Michael and tells him that he better meet him at Memorial Hospital, and quick. It's pretty serious.
Tuesday, May 4, 2004
Shiloh and Colleen bump into each other at the Athletic Club. Shiloh mentions the party Beach Front will be throwing for J.T. in LA. She also hints to Colleen that it would be better for J.T. if she weren't always tagging along. Colleen takes offense to the suggestion that she and J.T. break-up but admits to having thoughts herself that she might hold him back. She tells Shiloh that she and J.T. agreed to make it work.
Damon and Phyllis talk about their relationship. They talk about him going back to work and how it will be awkward around Jack but Damon is optimistic. She is apprehensive about her future with Daniel but he assures her that she will be great with him. They look forward to spending more time together.
Diane waits for Dru to emerge from her appointment to discuss Dru's plan. She wants Diane to steal Damon away from Phyllis. It will benefit Jabot, Dru and Diane. It will also give Diane some much deserved revenge against Phyllis. It could also stir up jealousy in Jack. Diane agrees to it. It'll be fun to pursue someone new.
Michael and Det. Webber wait for word on Kevin. Reese tells them it was really bad. He's suffered some major blows to the head. No idea if he'll pull through. Michael blames Webber for ignoring his warnings about Kevin's safety. Michael recalls his own incarceration and how it changed him. As they move Kevin to ICU Michael gets his first look at his brother's beaten appearance. He tells his unconscious brother that he will be fine. Soon after, Kevin goes into cardiac arrest.
Victor offers Nick a new position as his right hand during his community service project. Nick can't believe the audacity. Victor commits a disgusting crime which forced Nick to turn him into the Feds. He then fires Nick from the CEO position and wants him to help him dole out his community service. Nick couldn't be more disgusted with his father. Victor tells him he'll have lots of time to contemplate the job as he no longer has a position at NE. He does expect Nick to help transition his replacement.
J.T. goes over to Brad's house to talk about Colleen. Brad has serious doubts about the relationship now that J.T.'s music career is taking off. He doesn't want Colleen following J.T. around the country. He agrees to let Colleen go to the LA party on one condition: that Brad go along. J.T. agrees. Colleen arrives later and tells J.T. she knows about the party. Her lack of enthusiasm is noticed by J.T.
Wednesday, May 5, 2004
After Kevin flatlined and the doctors couldn't revive him, Michael cried and grabbed him, begging him not to die. But after a few moments of no signs of life, Michael backed away devastated. Then suddenly the monitor blipped and Kevin was back. Dr. Walker told Michael it was a miracle and he was now feeling optimistic about Kevin's chances. Michael collapsed in the waiting room until Paul arrived. The two men talked about the differences in their childhoods, and Michael wondered if Kevin had been brought back to life only to rot in jail. Paul said it wasn't over yet; Michael shouldn't give up hope. The two of them then went together to donate blood in a bonding moment.
Jill was so distressed when Katherine ordered an alcoholic drink at the Athletic Club restaurant that she decided to leave her mother and Arthur alone. Nor would she and Katherine make any promises about attending the Mother's Day celebration there. Arthur surprised Katherine by having Gina set up a meal for them in the Founder's Room, where he and Katherine had first met. They reminisced about her days as a beautiful young socialite when he was an ambitious young waiter and she would sneak around with him. When the first song they ever danced to began to play, Katherine moved willingly into Arthur's arms, neither of them aware that Jill had returned and was watching them.
Victor told Neil that he was offering him the CEO position. Although Neil admitted that he was having personal problems with his daughter, he assured Victor they wouldn't distract him from his work. He expressed curiosity about Nick. Victor said he'd told Nick he was replacing him as CEO, but he hadn't yet told him Neil was taking the position. He advised Neil that whatever action he took in his daughter's situation, he should make sure he could live with it down the road. He also expressed regret for the amount of pain Victoria had been in that had driven her away.
Sharon was at Nikki's house looking for Noah's baseball mitt when Grace arrived. Grace accused Sharon of planting the stories about Cameron's financial woes in the newspaper to cover up the fact that she'd killed him. Sharon suggested that Cameron had set the whole thing up to get away from Grace. She then shut the door in Grace's face. Unfortunately, when she turned around, her vision of dead Cameron had returned. She pretended not to be afraid of him, saying he was only a figment of her imagination. The real Cameron was either dead in a sewer or was millions of miles away avoiding his legal problems. Every time she turned around, he was closer to her. Finally he grabbed her, kissed her, said "Gotcha," and walked out of the house while Sharon looked dazed.
Colleen and J.T. continued to talk about how hard it would be to maintain a relationship because of his music career. When Colleen told him that Shiloh didn't think they'd make it, J.T. insisted that he and Colleen were the only two who understood exactly how special their relationship was. If they believed in what they had, Shiloh's opinion didn't matter. Colleen finally admitted that she'd seen the press conference in L.A. Full of remorse, J.T. said he'd gone along with Shiloh's suggestion that he pretend he didn't have a girlfriend. But he'd never do that again. Now did Colleen believe everything would work out okay? She hugged him, but she still looked worried.
Thursday, May 6, 2004
Katherine and Arthur sit down after having a romantic dance. Arthur tells Katherine how fun it is recapturing the romance of their first date. Katherine agrees, she says it makes her feel young again, just like old times. Arthur asks Katherine if she'd like to have one last dance. The get up and hold each other closely. Arthur realizes Katherine hasn't had a thing to drink besides her sparkling water. Katherine says when she is with him she doesn't feel the need to drink. Arthur says that's a good reason for him to stick around. They start kissing passionately.
J.T. tells Raul he is upset about Colleen. She has been feeling so insecure about their relationship that he's been thinking about quitting his contract with Beachfront Records. Raul tells J.T. he better cut Colleen loose. J.T. can't believe Raul would say that. But he realizes that those words had once come from his own mouth, when J.T. told Raul to cut Brittany loose.
Sierra, Lily and Colleen are talking to Daniel about Colleen's insecurity concerning her relationship with J.T. Daniel says if Colleen has already given up there will be no chance for them. Colleen agrees. Sierra and Lily don't like what Daniel has to say, they say that Colleen and J.T.'s relationship is special. Colleen's phone rings and it's J.T. He tells her that he loves her. She says she loves him too, but there are tears in her eyes.
Sharon tells Nikki about her encounter with Cameron again. Sharon said she tried to ignore him and tell herself that he wasn't real, but this time Cameron grabbed her and tried to kiss her. He whispered "Gotcha" in her ear. Sharon tells Nikki she thinks she may be losing her mind. Nikki agrees. Nikki says she's going to take Sharon to see a psychiatrist. Sharon seems pessimistic, but Nikki is determined. She asks Sharon if she can handle making dinner for the kids while she gets Miguel. Sharon says she'll be able to handle it.
Dru is overjoyed when she hears that Neil has officially been offered the Interim CEO position for Newman Enterprises. But Neil tells her he can't celebrate. He keeps thinking about what he knows about Kevin. How can they just pretend they don't know anything? It wouldn't be right. What if Brittany's real attacker hurt someone else or tried to hurt Brittany again? Dru tries to change the subject. She wants to go home and give Neil and private party.
Jack and Jill talk about their mother's. Jack thinks his insecurities have played out in his own dysfunctional marriages and commitment issues. They both agree that even with everything their mother's have put them through; they will always be their mothers.
Brittany tells Bobby she can't sing at Marsino's anymore. She promised Raul she wouldn't sing in a strip club any longer. Bobby says it's not going to be a strip club anymore. She can't believe Bobby has decided to change his club into a regular club and call it Marilyn's. She apologizes to him for not telling him sooner that she was only planning on returning for the one night. Bobby ends up convincing her to at least come and sing in the club for a couple nights a week. She tells him that there kiss meant a lot to her. Bobby holds her close. "We have a future together," he tells her.
Friday, May 7, 2004
Due to news coverage of Donald Rumsfeld's testimony before Congress, today's episode of The Young and the Restless was pre-empted. The episode originally scheduled for today will air on Monday, May 10th and no episodes will be lost.