The Young and the Restless Recaps: The week of January 24, 2005 on Y&R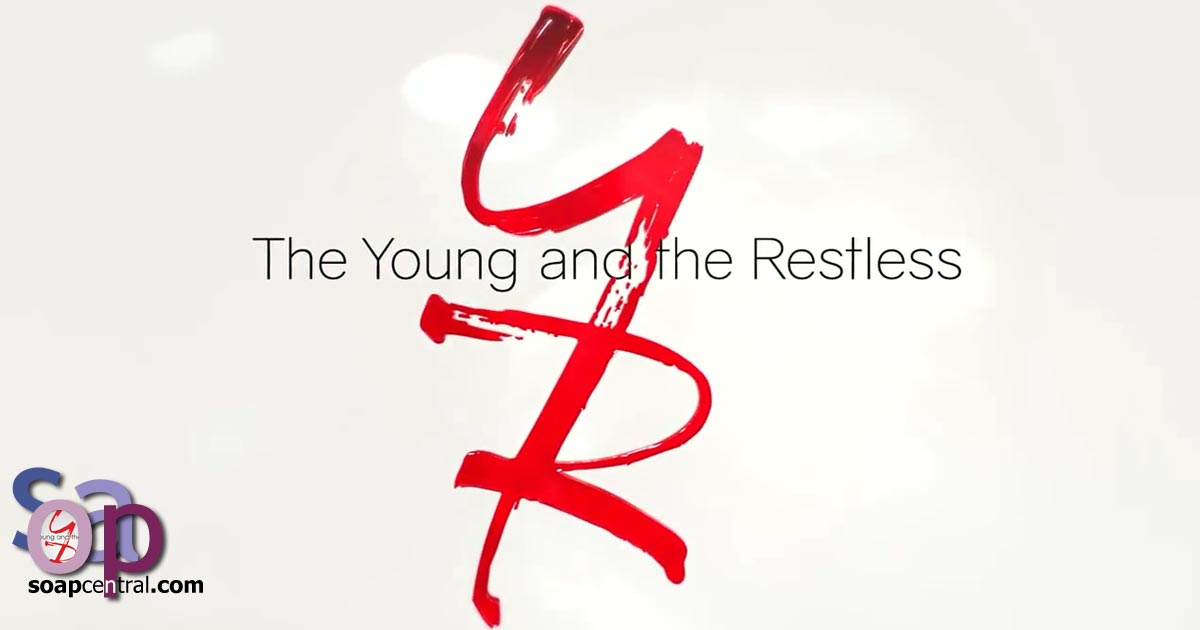 Monday, January 24, 2005
Chris is shocked to see that Phyllis dressed up as a reporter and wants to leave. Phyllis begs her to stay and pretend to interview with her. Meanwhile; Weber, District Attorney Richards and Michael are having a meeting. Weber can't stop staring at the reporter and goes over to talk to her. He tells her that he has family from Georgia and doesn't recognize her accent. Phyllis "The reporter" tells him that she is originally from Louisiana but Weber doesn't seem to buy that either. Chris says she has to leave and Phyllis goes after her. Phyllis asks Chris for a ride but Chris refuses. Weber is immediately on the phone with the Georgia newspaper in question.
Dressed in her Georgia reporter outfit, Phyllis shows up at Jack's to ask him for a ride home. He doesn't recognize her at first and is disappointed with Phyllis' schemes that he's sure will lead her into trouble. Suddenly, Weber comes to the door, having tracked Phyllis' cab to his home.
Brad has a meeting with Victor and says that he's sure people will rebel, and he will be one of them. Brad promises that he will have nothing to do with Victor being a part of Jabot and that he will do everything in his power to make sure Victor will never be. Victor concludes that the meeting is over, and Brad says that it never even existed.
Ashley goes to see Victor to find out how the meeting with Brad went. Victor says there is something they must do about Brad.
Malcolm tries to explain to Neil how and why he has changed since he has been to Africa. He says the people there lived and poverty but were good to him, and they took him in. Malcolm said that he always felt something missing in his life, and he knew it was his family. But now Malcolm doesn't really know how he fits into this new family. Neil is relived to finally have a heart to heart conversation with Malcolm, and the two decide to have a truce.
Sierra is proud that they have set up all the pictures so Malcolm will find them. Lily is sure that her plan will work; she is determined not to lose Malcolm without a fight. When Malcolm finds the pictures and Lily shows up to surprise him, Malcolm wonders if his words got to her. He tells her that his original words were true, leave him alone.
Lily runs home upset about Malcolm and doesn't want to talk about it. Drucilla waits until Lily is asleep and swabs her mouth.
Brittany goes to see Weber but ends up talking to another agent about the remains of Joshua Cassein. The detective has a lot of questions for her and Bobby shows up in the middle of it. When Brittany tells Bobby why she is there, he is truly happy that they were there for the same reason. When the detective asks if they are ready for questioning, Bobby says that the people involved are important. Brittany can't believe Bobby would go so far to protect Nikki.
Adrienne is cracking up about the stable incident when they found Michael and Lauren in the haystack. Damon is happy that they can finally talk again. Adrienne says that she is still sad talking about Elias with him, but she feels that he is the only one she can talk to about him. Damon says that spending time with Adrienne is precious, and they should be making every moment count.
Phyllis is in the Abbott living room with Jack, still in disguise as reporter, 'Sandra King'....Jack is obviously enticed by her role-playing. There's a knock at the door; it is Detective Webber stating that he had a cab follow 'Sandra King' to this address and that he is aware that the woman is really Jack's ex-wife. Webber wants to come in, and Jack tells him no way without a search warrant, closing the door in Webber's face. Jack then calls out to Phyllis, as Webber peers at them through the glass window of the front door.
Michael Baldwin and District Attorney Glenn Richards are at the jail interviewing Dominic. Michael states he finds it very suspicious that Dominic would come to Genoa City where he has no relatives, family or other ties, and further reminds him that leaving Georgia was a parole violation. With a lewd look in his eyes, he tells Michael he had an attraction for Phyllis. Michael then mentions his attempted rape of Phyllis, with Mr. Richards listening intently to all of it. Dominic argues that he has done nothing wrong, has paid his debt to society, and that Michael is just trying to mess up his head. Michael then asks him why he bought the gun. He says it's because he was scared Damon would be following him. On hearing that, Michael surmises that he really got the gun for the sole purpose of shooting Damon Porter to make SURE he wouldn't follow him. Dominic denies this, saying he only wanted Damon off his back, and this is the only reason he bought the gun. Michael then informs him that they are aware he and his accomplice, Fuzzy, were planning to hold up a convenience store; Dominic denies this. Michael then calls out for Paul. Paul enters, with Fuzzy in tow; he's out on bail in exchange for telling the truth about Dominic. He tells them the holdup was all Dominic's idea, that he planned the whole thing. Dominic denies all of this and suddenly lunges at Fuzzy. Dominic is handcuffed and removed from the room. Michael then looks at Glenn Richards and asks if he's now convinced....is it all over? Richards then tells Michael that indeed it's all over and that he has won. Richards knows now that he would never have a chance at convicting either Phyllis or Damon.
After a short while, there's another knock at the door. Jack comes downstairs....it's Webber again. Jack becomes exasperated, his dislike of this man being obvious, as he reminds Webber of how he falsely accused Phyllis of setting the pool house fire a while back and was responsible for her having spent time in jail. Webber, relentless with his quest, tells Jack that they both know that the woman reporter is really Phyllis in disguise and tries to get Jack to admit it. Jack again closes the door, and Webber forces it open. As he continues to stand in Jack's doorway, his cell phone rings. After hanging up, he tells Jack to go get Phyllis; that he's sure she will want to hear what he has to say. Webber, with a sly grin, says he knew ALL ALONG it was Phyllis. He then informs them that all charges have been dropped against both Phyllis and Damon. Phyllis, unable to resist toying with Webber, uses her little southern drawl to tell him thank you. Webber leaves....Phyllis and Jack embrace, both obviously very relieved.
Dru is at home asleep, obviously having a nightmare where she is saying a tearful goodbye to Lily. Lily is sobbing, as Malcolm asks her if she's ready to go with him. In this horrible dream, Malcolm tells Lily that since he is her father, he wants her all to himself. Dru attacks Malcolm; he then pulls Lily away, stating that they have a plane to catch. Dru feels Lily shaking her...."It was a nightmare" says Lily. They embrace, and Lily consoles her mother. Lily expresses her confusion about her Uncle Malcolm and questions if everything is okay, suspecting that something is not right. Dru denies this and assures Lily that she'll always be there for her. Lily tells Dru that she's sure her uncle is mad at her. Dru tells her that's not the case, stating only that Malcolm has issues. Lily thinks she's one of these issues, wondering why else he d be upset with her.
Bobby and Brittany are at the police station talking to an officer regarding Joshua's death. Bobby tells the officer that he wants his brother's remains released to him. The officer tells Bobby that he will need proof that the remains are indeed those of his brother; after all, the case has been cold for many years. He also said he will have to interview Nikki before this can occur. Bobby tells him he would like to keep Nikki out of this, as she's trying to move on with her life after remembering the whole trauma, but the officer says he can't close the case until he interviews her. Brittany quickly tells Bobby not to even worry about Nikki. After a moment, Bobby agrees but says he wants to talk with her first, which causes the officer to cast Bobby a rather curious look.
Nikki and Brad are together discussing how Victor and Ashley will be working side by side since she has hired him as a consultant for Jabot. He is still convinced that Victor is out to take over the company and that Ashley will do anything he says. Nikki disagrees....she tells Brad that Ashley asked her to keep an eye on Victor during his time as temporary consultant. She tells Brad to just accept this and do his job. Brad won't accept this, further informing her that Victor has pink-slipped the entire legal department of Jabot, and that he plans to pool all the employees together in an effort to oust Victor. Nikki leaves, and Brad makes a call to Bill Mitchell, telling him that he won't give up this fight.
At the same time, Ashley and Victor are having their own discussion where Victor informs her he wants to fire Brad. He feels that the personal animosity Brad has for him is clouding his judgment as a businessman. Ashley is very much against terminating Brad, further stating that maybe Brad was right about Victor's intentions after all and that Brad's point of view is vitally important to running the company. Victor feels he will impede all their decisions. Ashley sternly tells Victor that as CEO of Jabot, her decision is final and that they are NOT getting rid of Brad!
Damon and Adrienne are out having dinner together, having a discussion about their present relationship. Damon tells her that if he is sent to prison, at least there will be someone waiting for him. "I've waited all this time, haven't I?" says Adrienne, but they agree not to rehash the past. Damon wants to talk about the future and wonders if there's another man in her life, but she doesn't want to answer this. Damon says that's okay and that they can just be happy they have this present time together.
Brittany and Bobby are now back at the ranch, and she asks him if he wants her to be there when he talks to Nikki. Bobby says he wishes he didn't have to involve Nikki any further in this. Brittany tells Bobby she wished Nikki had never told him the truth about Joshua. Nikki enters the room and can tell that something has happened. Bobby then asks his wife to give him a minute alone with Nikki. Hearing this, Brit appears hurt but reluctantly gives Bobby his time with Nikki and goes upstairs. Bobby then relates to Nikki the meeting he had at the police department and that they won't release Joshua's remains to him without first talking to her. Nikki isn't sure she will be able to do this. Bobby reminds her that she had asked how she could ever make this up to him; he tells her this is how....by talking to the police. Nikki says that if she does this, all will know...the press, the whole town...everyone!! Nikki finally tells Bobby she realizes she owes this to both Bobby and Joshua and agrees to talk to the police. She then reminisces that when she was younger, she didn't care about the opinions of other people or what they thought of her. Bobby reminds her that marrying Victor is what changed her; she agrees. Nikki tells Bobby to call the detective and tell him she has agreed to talk with him. Bobby and Nikki then share a warm embrace...